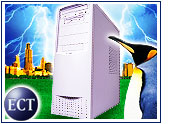 Los Alamos National Laboratory announced plans with system builder Linux Networx to build a Linux cluster supercomputer, using AMD Opteron processors, that will rank among the top 10 of the world's fastest computers and will facilitate nuclear weapons research.
Salt Lake City, Utah-based Linux Networx — which also scored a second deal for a smaller, 256-node system that will be the largest InfiniBand cluster to date — touted the rapid deployment of the system, dubbed "Lightning," that is scheduled for delivery in September.
With a theoretical peak performance of 11.26 teraflops per second — one teraflop represents one trillion processor operations — the supercomputer will use 2,816 Opteron processors and will be the first 64-bit Linux supercomputer in the Advanced Simulation and Computing program at the Los Alamos lab, a facility that runs complex simulations for weapons testing, among other purposes.
The Los Alamos deal also highlights a supercomputing movement toward Linux in favor of more expensive, monolithic supercomputers that traditionally have dominated high-end computing, Yankee Group senior analyst Dana Gardner told TechNewsWorld.
"The change in philosophy in supercomputing has been away from highly complex, powerful, hardware-oriented systems to taking advantage of cheap components to achieve the same performance," Gardner said. "Linux aligns well with this new general philosophy that has taken shape over the last 10 years."
Lightning Strikes
The US$10 million deal for Lightning, which will consist of 1,408 dual-processor nodes in a Linux cluster, gives Los Alamos a way to run complex calculations and get results in a few days, Lab Computing Communications and Networking leader John Morrison said in a statement.
Morrison also indicated that the Linux supercomputer might pave the way for more open-source computing in high-end environments.
"A system of this magnitude will provide a valuable proving ground for large-scale, practical cluster computing, building on the exciting development of open-source tools by the larger high-performance computing community," he said.
Higher Level for Linux
Linux Networx spokesperson Brad Rutledge, who said Lightning should rank among the top 10 fastest supercomputers in the world, told TechNewsWorld that the deal is a validation of Linux clustering technology.
Gardner, who referred to advantages of open-source flexibility for researchers using the system, said the deal indicates that doubts about Linux in high-end environments are unwarranted.
"It sort of challenges the conventional wisdom that Linux is only applicable for file and server and print computing," he said.
Record Delivery
Linux Networx, which has built similar Linux cluster supercomputers for Lawrence Livermore National Lab, touted the company's ability to quickly create the system, which should arrive at Los Alamos labs within two months.
"That is a record for a top-10 system," Rutledge said, referring to a previous delivery benchmark of about two years.
He said the system will be built, staged and tested by simulating the Los Alamos environment. The company then will break down the system, ship it to New Mexico and reconfigure it at the laboratory.
Open-Source Orange
While the Lightning system will be the largest Opteron system ever built, the AMD processor will be used in the smaller, 256-node cluster system called Orange, also ordered by Los Alamos labs in this deal.
Using Linux clustering, Orange will consist of 512 Opteron processors, open-source InfiniBand interconnects from Mellanox Technologies and cluster-management software from Linux Networx. The 256-node cluster will be the largest system ever to use InfiniBand switched-fabric interconnect technology.
Los Alamos said the Orange system will let users quickly switch between 32- and 64-bit modes and will facilitate customization of the operating system for different applications. While Lightning will be used to model weapons and nuclear simulations, Orange will be used for unclassified research in biology, chemistry and engineering.