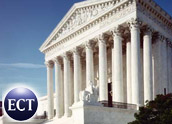 The Supreme Court's Massachusetts v. Environmental Protection Agency (EPA) ruling has environmentalists jubilant, and if they are willing to admit it, Bush administration critics indulging in a bit of Schadenfreude, or gloating.
In a 5-4 decision, the Court found that the EPA in fact does have the authority to regulate automobile emissions, contrary to the Administration's stance. It also found that it must regulate them in accordance with the Clean Air Act.
The ruling has been a winner for states seeking more input in executive decisions that could affect them as well as environmentalists concerned about policies that could have an detrimental impact.
As in every Supreme Court ruling, there are some losers as well. In this one the obvious disappointed parties include the Bush administration and the automobile industry. As with the winners in this case, though, their losses will have a greater effect than one might first realize.
Executive Power
It is a fair statement to say that President Bush's view of the role of the presidency is one of near unquestionable authority, with a wide moat of privilege and executive powers separating it from the reach of the judiciary and legislature.
This theory of a strong unitary executive power received a blow with this ruling, William Buzbee, director of the Environmental and Natural Resources Law Program at Emory University, told TechNewsWorld.
"If you look at all of the arguments of the Justice Department, they in essence were based on the theory that they should have a broad latitude not to have to answer to a citizen's suit or not to have to exercise authority under the Clean Air Act if they chose," he said. "All of those were rejected."
A Conservative Court
By extension, another loser — at least in some cases — is the theory that the Supreme Court with the recent Roberts and Alito appointments would become a majority conservative court.
That may well be true in certain cases. However, as Massachusetts v. Environmental Protection Agency illustrated, Justice Kennedy is emerging as the swing vote, replacing Sandra Day O'Conner's role, he said.
"In case after case it is becoming apparent that Kennedy is now playing that role," he claimed.
Chief Justice Roberts, and Justices Scalia, Thomas and Alito, have strong views about executive power, believe in limited standing — that is a right to bring a certain grievance to the court — and do not appear to place much weight on environmental concerns and congressional statutes in this area, he said. In this case, and in last year's Clean Water Act, these viewpoints were thwarted by the majority.
Auto Manufacturers
The case, it would seem, is the auto manufacturers worst nightmare incarnate. Indeed, the EPA's decision to allow California to go ahead with its own emissions standards is a taste of what many expect to be a future trend. The automakers now will have to contend with the much-ballyhooed specter of a patchwork of regulation, from one state to another.
In the long run, though, it may be that they will benefit from the ruling. Sooner rather than later Congress and/or the Administration will be forced to address this on a federal level to solve this particular pain point for the automakers.
"Certainly it is likely to put more pressure on the automobile industry," A. James Barnes, an Indiana University professor and former EPA general counsel and deputy administrator, told TechNewsWorld. "They will be more inclined to push Congress to do something faster than they otherwise would have been inclined to do."
Big Win for States
Surprising in an environmental case, but in an indirect way environmental groups did not get everything they wanted in the ruling, Gabrielle Sigel, partner and cochair of Jenner & Block's recently launched Climate and Clean Technology Law Practice Group, told TechNewsWorld.
One of the big wins for states was the acknowledgment by the Supreme Court that they had "standing" to file suit, she said. "The Supreme Court didn't address the matter of whether the Sierra Group or other groups had the same standing. So it doesn't necessarily mean they don't, but they would have liked that issue to have been addressed."
Limiting access to the courts, though, can be a doubled edge sword, Sigel warned. Most people tend to think of it in democratic terms.
"It also provides standing to appeal a regulatory process that might be helpful to you," she suggested. "For example, if a future administration implements a rule that is beneficial to a certain constituency there is a greater likelihood that it can be challenged."
Sigel noted another surprising "loser" in this case: Corporate policyholders with certain pollution exclusions, for example. "It depends on the policy language of course, but now that the Supreme Court has ruled that greenhouse gases are an air pollutant this could have an affect on coverage decisions," she said.
SC Emissions Ruling Spurs Fast and Furious Reactions