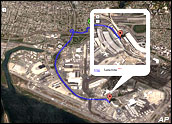 Google is building on its popular My Maps tab by releasing application programming interfaces (APIs) that can overlay third-party content onto Google Maps.
Called "Mapplets," these mashups complement the My Maps concept, Thai Tran, Product Manager for Google Maps, told TechNewsWorld, noting that in fact, the APIs for both Maps and Mapplets are very similar.
Google offered a developer preview of Mapplets at Where 2.0, a mapping conference, in May. Until now, Mapplets have been accessible only within a special developer preview version of Google Maps.
Other differences between the two applications, albeit slight: Mapplets reside within the Google Maps site, rather than as a standalone Web site. Also, users can incorporate the information from Mapplets into their personal maps.
Using Mapplet APIs, a real estate agency, for example, can create a map showing all of its new listings — or only listings in a certain price range.
"I think we will see innovation in a lot of different areas," Tran said. "That is what is great about this platform — anybody can contribute to it. I have seen mashups that depict what would happen around the country if the sea level rises by a certain amount, for example."
It's How Hot in New Orleans?
Google has developed its own Mapplets, including Google Real Estate Search, which finds rentals and homes for sale drawing from listings in Google Base.
At the same time, a number of businesses are contributing content. Google has received inquiries, as well as content, from such companies as Orbitz andBooking.com, Tran said.
WeatherBug is another contributor. "We think access to local content through maps is a great way to connect with consumers outside of our normal distribution channels," Shane Lundy, vice president of product strategy at WeatherBug, told TechNewsWorld.
There are 100 such Mapplets in Google's Map Directory. Using Mapplets from WeatherBug, GasBuddy.com and Zvents to plan a family vacation, for example, a user could view weather information for a specific destination, say, New Orleans — as well as identify the cheapest places to get gas en route and outline which sights to see on a particular day.
The level of information can be very detailed, depending on the developer and content provider.
WeatherBug's Mapplet uses data from WeatherBug's proprietary network of WeatherBug Tracking Stations and weather sensors worldwide.
"We use the same data as the National Weather Service, but we also have a network of weather monitors at 8,000 schools, which is updated every second, compared to the hourly updates by the NWS," Lundy noted.
WeatherBug's proprietary service could develop an API for a transportation manager who did not want to expose the company's tractor trailer fleet to wind gusts above 40 miles per hour. "We can deliver an alert to a manager that a certain truck or fleet is heading into an area experiencing high gusts," he said.
Google Mapplet users will not be able to duplicate the same precision — but they can come close.
"A developer can grab our API [and] the Google Mapplet API and develop something pretty sophisticated," remarked Lundy.
Web 2.0 Mindset
It may seem downright altruistic of companies like WeatherBug, Google and Orbitz to contribute content to a tool that may not necessarily result in a corresponding increase in revenues.
That, though, is one of the byproducts of the Web 2.0 economy, said Eric Kuhn, founder of Kuhn & Consultants, a new media consultancy. Increasingly, he told TechNewsWorld, consumers expect to receive — gratis — tools that at one time would have been considered proprietary — or, at least, for sale.
"Now, we have a generation of users that are much more aggressive with technology and want control in order to build their own experience or product online," he observed.
"We will definitely be seeing more of these developments — not only at Google, but other companies as well," Kuhn predicted.