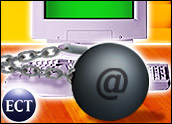 While U.S. legislators and e-mail users are hoping a new national anti-spam law will stem the flow of unwanted electronic solicitations, companies engaged in legitimate marketing are concerned they will pay a higher price than spammers who skirt legislative requirements or conduct their business from offshore.
However, analysts say the federal law that took effect January 1st — known as the Controlling the Assault of Non-Solicited Pornography and Marketing (CAN-SPAM) Act of 2003 — is not overly burdensome to e-mail marketers and others who reach customers, clients and partners via e-mail.
"For a big supplier, this is not a big deal," industry analyst Joyce Graff told TechNewsWorld. "For a little shop like a spammer, it is a big deal. That's what we're trying to do. We're trying to distinguish [spammers] from the others, and the legislation does. You can tell the good guys from the bad guys a little more clearly if you follow the legislation."
Compliance Without Tolerance
New requirements for companies and their e-mail marketing partners, as dictated by the federal anti-spam law passed last month, include: prohibition of misleading or false e-mail headers; inclusion of opt-out options; inclusion of the physical address of the company pitching via e-mail; and proper identification of sexually explicit or pornographic e-mails.
Basex chief analyst Jonathan Spira, whose firm recently reported that spam cost companies worldwide about US$20 billion in lost resources and productivity during 2003, agreed that the CAN-SPAM Act is not asking too much of companies.
However, Spira told TechNewsWorld, companies that use marketing firms as partners to send their e-mail messages must now ensure messages have the company domain in the address field.
"Companies have to be careful about how they use the 'from,' 'to,' et cetera fields to make sure they are not in error," he said. "It's not a big burden, it's just there's no tolerance for mistakes."
Guilt by Association
Another reason for companies to tread cautiously is that state laws such as California's as well as the new federal legislation put most of the onus on advertisers, not marketing organizations, to ensure origin addresses are not falsified. The laws include harsh penalties of as much as US$1 million for those involved with or connected to what is now considered illegal spamming. As a result, Spira said, companies must become much more aware of how their e-mail marketing strategies are conducted.
"One of the changes is companies are going to have to be very careful of what their marketing partners do and what agencies do to complete marketing campaigns," he noted. "You don't want to be tainted, and you don't want to be associated with [a spammer]."
Graff, who said the CAN-SPAM Act is a step in the right direction, indicated that in the long run, companies will benefit from tighter controls on e-mail marketing because they will spend less time and fewer resources ensuring their marketing messages have not been "blacklisted," or labeled as spam.
"Over time, this is going to save them a couple of salaries a year," she said.
Spike in Snail Mail?
Criticisms of the federal legislation include concerns that it supersedes stronger state laws and that it might punish legitimate marketers that comply while merely pushing unscrupulous spammers out of the United States.
Another side effect might be a flood of paper mail from marketers, according to Baltimore, Maryland-based consulting firm BGSmarketing.com, which has predicted 2004 will be "the year of junk mail."
"Between the recently passed 'Do Not Call' laws and the CAN-SPAM Act which goes into effect January 1st, many companies are now hesitant or forbidden to use telemarketing or email marketing to win new business," said BGSmarketing.com president Bill Glazer in a statement. "As a result, many are making increased use of traditional 'junk mail' advertising. You're going to get so much more junk mail you'll need to buy a bigger trash can."
Even if the CAN-SPAM Act does reduce overall e-mail spam volume, users must still be vigilant. Spira said that although companies may have to provide e-mail solicitation recipients an opportunity to opt out or be removed from a mailing list, users should not respond to unwanted messages because doing so will confirm they are receiving the messages and could result in even more mailings from offshore spammers.
"Probably half of the spam will be coming from offshore," Spira said. "There's no way to differentiate — that's the problem."