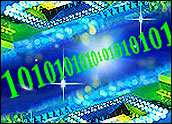 Chip maker Micron Technology touted its new image sensor silicon this week, calling it the world's first 8 megapixel image sensor packaged in a standard-sized 1 by 2.5-inch optical format, widely used in today's mainstream digital cameras.
A camera using the sensor, unveiled by Micron in prototype form, would be capable of snapping 8-megapixel digital shots as quickly as 10 per second, far faster than current digital cameras. The sensor's higher-speed capability also allows digital cameras to capture and play back high-definition (HD) video, supporting video at 30 frames per second in 720p (progressive) format, according to Micron.
"I don't know of another sensor that has that capability," Semico Vice President of Strategic Technologies Morry Marshall told TechNewsWorld.
Snappier Cell Shots
While the new image sensor technology promises to improve the quality of digital pictures and video, it was specifically described by Micron as revolutionary for cell phones with cameras.
The new image sensor and its 1.75-micron pixel design would allow a mobile phone camera to take 3-megapixel pictures, more than twice the resolution of shots taken with today's mobile phones.
"That's a breakthrough," Marshall said. "I think this is a great technology leap."
Mixed Up Market
The technology would enable the use of smaller lenses without compromising picture resolution, Marshall pointed out.
However, the biggest hurdle for the technology may be in finding its place amid the battle among different devices and formats, as well as preferences for still or video image capability by device makers.
Different trends and technologies competing in the market currently include digital still cameras, which might also have video capabilities; video recorders, which may also have still picture capabilities; hybrid phones; and mobile phones, which have typically been equated with poor picture quality in the past.
"[Micron's technology] helps cell phones capture that [digital image] part of the market," Marshall said.
Pushing Megapixels
The new Micron image sensor will be released for general customer sampling this fall, and mass production of the chips is expected in the first half of next year.
The company indicated pricing for the 8-megapixel sensor will be determined at the time of the sampling.
"As the world's leading supplier of image sensor solutions, we continue to expand the envelope, bringing new experiences and advanced functionality to digital photography," said Micron Chairman, CEO and President Steve Appleton.
Camera Video
Although the technology may make phone cameras more appealing, digital still cameras will maintain a quality advantage over them, largely because of the lens.
The technology may also help digital still cameras by boosting their HD video capabilities, according to Semico's Marshall, who added video recorders use smaller sensors.
The technology will probably get to consumers in significant quantities in about a year, but the biggest question is which platform and format consumers will prefer, he predicted.