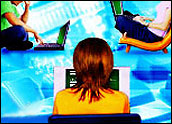 Microsoft is steadily advancing its plan to make Windows Live an entertainment and communications hub with its rollout of Windows Live Spaces. The next generation of the company's blogging service, it now focuses heavily on social networking.
Microsoft is approaching the concept of social networks a little differently from other providers, explained Joe Wilcox, a senior analyst at JupiterResearch.
"Microsoft recognizes that 10,000 strangers aren't likely to read the average blog," he told TechNewsWorld, "but the people who know the blogger will read it." Hence, Microsoft's approach is to make it as easy as possible for users to hook up with friends and direct them to their site.
Windows Live Spaces connects users to their social networks — that is, people in their Windows Live Contacts list — by integrating Windows Live Messenger, Windows Live Mail and other services.
It also facilitates introduction of individuals on a user's Live Contacts list.Once added to each other's Windows Live Messenger lists, users can initiate instant messaging conversations from within Windows Live Spaces.
"The instant message function becomes the framework for the social network," Wilcox said.
Better Photos
While Microsoft excels in helping its users expand their networks, its new offering is lacking in some fundamental areas, Wilcox noted.
"Microsoft has improved a lot with Windows Live Spaces, but there was more it should have done — such as enhance the quality of its photo services," he said.
Microsoft's approach to photos has been to lower the quality for Web viewing. This is a major functional gap, according to Wilcox, because most bloggers post photos on their sites.
A Live Strategy
Live Spaces is only part of Microsoft's overall strategy to establish its position on the Internet. By the end of summer, the software company expects to ship almost half of the 20 Windows Live beta services it has been testing.
These include Windows Live OneCare Safety Scanner, which was released in beta last November. It a free, on-demand PC scanner that checks for and removes viruses and gets rid of unused files on the hard disk.
Microsoft will also integrate new safety features into its newly released Windows Live Toolbar.
Then there is the Windows Live QnA beta, a new vertical search tool that lets users ask and answer questions from an online community on a given topic.
"Windows Live and Internet-based ad-funded software and service are critical to driving growth for the company," said Steve Berkowitz, senior vice president of the Online Services Group at Microsoft, "and we are energized about the continued investments we're making to help provide consumers with a seamless and safer online experience."