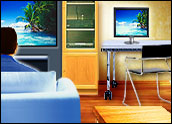 In an apparent effort to move beyond the past problems with its Internet protocol television (IPTV) middleware, Microsoft has changed the name of the platform and added some new multimedia capabilities.
What was once Microsoft IPTV is now Microsoft Mediaroom. The updated software includes support for the sharing, throughout a home network, of music and photo files. It also includes dynamic MultiView (multiple picture-in-picture) abilities, support for digital terrestrial television (DDT) and a Multimedia Application Environment to aid in the creation of interactive services and advanced applications.
Its new Mediaroom Application Development toolkit, said Microsoft, gives IPTV service providers and third-party developers better tools to create TV-based applications, and it noted Mediaroom supports simultaneous recording of multiple high-definition and standard-definition TV channels.
The Name Game
The company is renaming the former Microsoft IPTV "to better reflect the broader set of new connected entertainment experiences made possible today and the types of experiences anticipated in the future," Microsoft said. The new name should help IPTV providers' marketing departments by giving them an "ingredient brand" they can use to differentiate their offerings from their competitors, it added.
"They've taken their IPTV middleware platform and they are adding some multimedia capabilities and renaming it," IDC multimedia research director Matt Davis told TechNewsWorld. "Microsoft IPTV has been out for years, and there have been issues around it in terms of bugs and being slow to market. There has been a lot of criticism in the marketplace. I'm getting the impression they got a lot of those bugs figured out and that it now scales more economically. They emerged from a troubled era, so it's probably a good idea to put a new name on it and cast it in new light."
There's more to the new name than just abandoning a moniker associated with trouble. "Mediaroom" better reflects the updated platform's multimedia enhancements, which Davis believes is important.
Digital Convergence
"I think it's smart," he said. "The space I look at is what we call the multi-play space. At IDC, it's a recognition that the different services that were traditionally being stove-piped are beginning to be converged. We are sort of moving toward the concept of unified service delivery."
Moving away from the IPTV label is a wise move for Microsoft, even though IPTV is the heart of the Mediaroom platform, because television is just one piece of the convergence, said Davis.
"IPTV is firmly associated with switched digital video and sort of an enhanced replication of the existing broadcast television delivery system," he said. "But who knows what's going to come in the future? We've talked about how file-sharing and moving multimedia around the home seamlessly and easily so people can actually do it is kind of the next big thing that is going to happen."
Wall-to-Wall Microsoft
While IPTV alone has capabilities far beyond standard cable TV, such as enhanced digital video recording, video on demand, high-definition television and "instant channel zapping," the addition, through Mediaroom of personal media "enables consumers to easily listen to digital music and view digital photographs stored on PCs elsewhere in the home on the best screen in the house: the television," said the company," said Microsoft.
Service providers will be better able to offer consumers Web services and applications such as dynamic video-on-demand portals, games and interactive TV services, the company added. "Enhanced MultiView" will allow viewers to see multiple channels, programs and camera angles on one screen.
More than 18 leading service providers use Microsoft Mediaroom platform for their digital TV offerings, according to Microsoft. Deployments, it said, are currently underway with 10 other providers.
Microsoft is leading others as a provider of middleware for the digital TV space, said Davis. The company "wants to take the success they had on the PC … to the greater home network so not just your PC applications are going to run off Microsoft software but your television guide, the way you manage your phone messaging, file sharing and the sharing of online games."