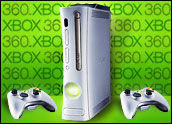 Microsoft announced on Monday a new set of development tools aimed at allowing the average user to create game content for its Xbox 360 console.
The software giant hopes its new XNA Game Studio Express software and support will spur games innovation, develop new talent and generally change the way video games are created. The tools will give hobbyists and smaller, independent studios the chance to see their game ideas through to actual game play, Microsoft said.
"XNA Game Studio Express will ignite innovation and accelerate prototyping, forever changing the way games are developed," said Microsoft Game Developer Group General Manager Chris Satchell at the company's Gamefest 2006 in Seattle.
Content Club
The XNA Game Studio Express tools will be freely available for download on Windows XP systems in beta form August 30, Microsoft said, and will become more broadly available this holiday season.
Gaming enthusiasts will also be able to join a "creators club" for US$99 a year that will allow them to build, test and share Xbox 360 games with additional materials and tools designed to help speed the development process.
"This represents the first significant opportunity for novice developers to make a console game without a significant investment in resources," Microsoft said.
The firm described its XNA Game Studio Express software as an "integrated environment based on Visual Studio Express and .NET development platforms for incorporation and use of game content."
Ease Is Key
The new system may very well have the potential to impact the overall game industry, but that potential hinges on the tools' ease-of-use as well as the difficult task of attracting a significant number of serious developers, Parks Associates Director of Gaming and Broadband Michael Cai told TechNewsWorld.
"If it's still fairly technical, then it's hard to break the 2-5 percent level," he said, referring to the percentage of overall gamers who participate.
Cai added that existing games have already heralded the trend toward user-generated content and development, particularly "Half-Life 2" and "Second Life," both of which have included player-made features.
Games like these have, in fact, already begun to inspire traditional, mainstream game developers to change their models, according to Cai.
User Participation
Microsoft's announcement highlights how user-generated content — the force behind such popular media-sharing services as YouTube and Digg.com — is making its way into gaming as well, Cai said.
User-generated content is becoming "such an important topic for any media industry," he said.
Microsoft also said it will release a second XNA toolset next spring, this one aimed at more experienced and professional game developers.