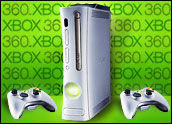 Microsoft will soon launch its Xbox Live Community Arcade service, which will allow anyone to create — and distribute — console games for the Xbox system.
The move, announced at the Game Developers Conference, opens the doors for aspiring game creators to compete with big name studios. To participate, developers must become a member of the XNA Creator Community, which is the environment where Xbox games are created. Once the game is finished, it's then submitted to the community for a peer-reviewed process to the game isn't buggy or filled with inappropriate content.
Planting the Flag
It also stakes out a well-defined position for Microsoft as it continues to battle Nintendo and Sony for console supremacy. Nintendo and Sony have long been careful about their developer partnerships, although Sony's stance has softened somewhat over time as it attempts to create a mobile-console environment.
Microsoft's decision to open the development and distribution doors — at least in its Xbox Live service — marks is at the opposite end of that spectrum.
"The time has come for the games industry to open its doors to all game creators, enabling anyone to share their creations with the world," said John Schappert, Microsoft's corporate vice president of Live, Software and Services. "Our goal is to drive a creative and social revolution in games with the same transformative power that we've seen in digital music and video sharing."
Quality Control
The issue with opening up development and distribution, though, is the same one that digital music companies faced in the early part of the decade: Will users sift through piles of content in hopes of finding that one gem?
Microsoft expects 1,000 new games within the year. That's not a huge number under normal circumstances; however, with little marketing or social collaboration to find the best games, it may be daunting for some developers who are hoping to find huge success. That issue will only become larger as more games are released.
That mountain is even more daunting with Microsoft at the helm. The Redmond software giant has long done a poor job of integrating a truly open architecture for its social networking applications.
"The real challenge is that Microsoft hasn't succeeded in social media at all," said Richard Doherty, the research director at the Envisioneering Group. "While there is chat in their online games, they haven't done a very good job at all with social structures. They haven't announced an infrastructure to manage what may be a flood of information. A flood of stuff is just more noise."
Still, Microsoft announced the release of the first seven games, which are available for a limited time from the Xbox Live Marketplace.