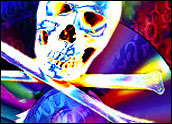 Microsoft announced it has filed 26 lawsuits against alleged dealers of illegal software. These suits are more than double the number of cases Microsoft has filed on any one day — in fiscal year 2006 it filed 10 cases at one shot. The suits represent the launch of Microsoft's latest and, it says, most fierce pushback yet against software piracy.
The company has been battling software piracy for many years. Now it is stepping up its enforcement and prosecution efforts in response to requests from channel partners and small and medium-sized computer manufacturers who find they cannot compete with the counterfeit software vendors.
Plans call for Microsoft to file in excess of 100 cases against companies found to be selling counterfeit software and that do not change their business practices once they are warned, said Bonnie MacNaughton, senior attorney for Microsoft. "This will be triple the number of suits filed, roughly, from last year," she told TechNewsWorld.
The 26 lawsuits are against companies that allegedly pirated software or installed unlicensed software on computers they sold. One of the lawsuits was filed against a reseller in Georgia who was recently indicted on federal criminal charges. Lawsuits were filed in Colorado, Georgia, Illinois, New Jersey, New York, Ohio and South Carolina.
Third Party Pain
The software giant is not able to quantify precisely the amount of money it loses to software piracy, according to MacNaughton. The Business Software Alliance, a Washington-based advocacy organization of which Microsoft is a member, estimates that in the United States 21 percent of software used is illegitimate. Worldwide, the estimates rise to 35 percent.
"The point is that piracy hurts companies other than software vendors like ourselves," MacNaughton says. "Our channel partners are affected, so are the many small computer manufacturers that build unbranded computers, or 'white boxes' and deploy legitimate software in their machines. They are the ones that call us to report on the computer shop in the local mall who might be selling PCs with counterfeit software."
Secret Shoppers, Snitches
Typically that is how Microsoft gets its leads when developing cases against counterfeit software distributors, she said, besides the thousands of calls a month it receives on its anti-piracy hotline (800-RU-LEGIT).
Once it gets a lead, Microsoft purchases a program or hardware, and then tests the software to determine whether it is authentic or not. Oftentimes Microsoft will notify the vendor if the software is counterfeit to give it a chance to change its practices, MacNaughton added.
"We take pains to make sure people have a chance to avoid prosecution. A lot of people are making a substantial profit from the sales, though, and don't stop."