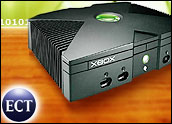 Looking to repeat the high score of its Xbox-exclusive "Halo 2," Microsoft has signed legendary Japanese game-maker Hironobu Sakaguchi — who created "Final Fantasy," one of the most significant role-playing games (RPGs) ever — to produce two new RPGs for the next-generation Xbox console.
Microsoft declined to disclose a time line for the two Xbox-only titles, but a spokesperson for the company told TechNewsWorld that Sakaguchi is already at work on the "rich story line" of the first game. The spokesperson, who asked to remain anonymous, added that Microsoft is "staffing up" with "the best talent" to build what it hopes will be next-gen blockbusters for Xbox.
Jump Start for Japan
"I'm excited about the two epic game titles we will be developing," said a statement from Sakaguchi, 42. "A number of talented creators have signed on to help develop these games, and I'm confident we will be able to create games that provide gamers with a new kind of thrill."
By partnering with the renowned Sakaguchi, Microsoft is hoping to gain strength in its struggle for the Japanese and broader Asian market, which is dominated by Sony's PlayStation technology.
Microsoft vice president of worldwide marketing and publishing Peter Moore — who reportedly worked out the two-title agreement with Sakaguchi over the last year — credited Sakaguchi with taking RPGs from a small niche to the wider world.
Sakaguchi, a gaming veteran of 20 years, said he hopes to depict characters that "transcend the game, find a place in the hearts of gamers, and make time spent with my games a fond and long-lasting memory."
He added, "Microsoft's cutting-edge technologies in the next-generation platform will allow me to bring to life an array of ideas that I have had for many years."
Most Important MMOPG
Parks Associates analyst Michael Cai, who covers massive multiplayer online role-playing games (MMORPGs), highlighted the significance of Sakaguchi's "Final Fantasy" series, which has reportedly garnered sales of more than US$60 million since its release.
"It's probably one of the most important MMORPGs in the U.S.," Cai told TechNewsWorld.
Cai said that while regular gamers have an array of similar RPGs to choose from, "Final Fantasy" remains a popular choice and is known for its intriguing plot and quality graphics.
The Halo Effect
By banking on games exclusive to its console, Microsoft is looking to repeat the success of "Halo 2," which has sold well and helped drive sales of the Xbox hardware.
Hardcore gamers who already had PlayStations "had to get an Xbox" in order to play "Halo," Cai said.
The analyst added that the strategy, which is the same as what Nintendo has done with its GameBoy devices and titles, contrasts to the strategy of rival Sony, which typically produces game titles for multiple platforms.
"They [Sony] have probably been watching the success of "Halo" and wondering, 'Why don't we have a game like that?'" Cai said.