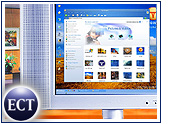 Microsoft has announced plans to tie its next-generation Longhorn client-side operating system to its Longhorn server operating system that is aimed squarely at corporate computing. The Redmond, Washington-based company said it will still be at least another year and a half before any Longhorn release, but the company signaled at the Windows Hardware Engineering Conference (WinHEC) this week in Seattle that the client and server operating systems will be aligned more closely.
Microsoft has flip-flopped on which version would be released first and has indicated it is still unlikely that the company will release both versions of the next-gen OS at the same time because server development takes more time and testing than desktop development.
However, the company appears to be moving its desktop and server versions closer together and likely will avoid the year-and-a-half to two-year lag that may have hurt it during the Windows XP and Windows Server 2003 releases, according to Yankee Group senior analyst Laura DiDio.
"Actually, Microsoft over the past 12 to 13 years has gone back and forth on whether they should do this — using the same core kernel," DiDio told TechNewsWorld. "Now what they're trying to do is at least align the ship date."
Reeling In Release Dates for Longhorn
While Microsoft did not point to a unified release schedule for the client and server versions of Longhorn — which was released in developer-kit form at the WinHEC event — DiDio said the company probably will try to keep the different Longhorn ship dates within 90 days of each other.
"Otherwise, it confuses customers," she said. "The more they can align things, the easier it is to present to the customer."
Meta Group vice president Steve Kleynhans told TechNewsWorld that although two-week and similar delays on Microsoft's Service Pack 2 for XP — described by many as practically a new OS — have not hurt the company, there is anticipation and expectation from Microsoft's partners and customers.
"There's a lot of pent-up demand under the covers in the industry in a number of different areas," Kleynhans said.
Longhorn Timing Easier for All
The Yankee Group's DiDio said the alignment of Longhorn client and server will help Microsoft's customers plan upgrades.
"Customers won't necessarily upgrade [both client and server software] at the same time, but it makes it easier to budget if they know the time frame," she said.
DiDio said the client-server tie-in will help Microsoft by allowing the company to cross-develop both versions of the operating system at the same time and keep patching and security on the same page.
The analyst added that independent software vendors working with Microsoft are also likely to benefit from knowing better when the next Windows version — both client and server — is coming.
Assurance and Anger About Longhorn
However, with continued delays, Microsoft is in danger of exacerbating the problem of customers who were promised Longhorn this year with purchase of Microsoft's updated Software Assurance License, which dates back to 2001, DiDio said.
"There was an expectation of Longhorn in 2004," she said. "When it didn't ship, it was like 'uh oh' — some of those customers are angry. Some of them bought the Software Assurance specifically expecting Longhorn and got nothing for their trouble. So that's an issue for [Microsoft]."