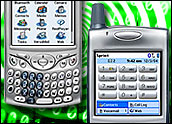 Details about the forthcoming Windows Mobile 6, a platform that has been code-named "Crossbow," have been leaked days before Microsoft's planned formal release at the 3GSM World Congress in Barcelona, Spain. The operating system will begin shipping on mobile devices worldwide by the second quarter.
Viewed as an incremental upgrade to the last point release — as opposed to the major overhaul that was done with Mobile 5 — much of the new platform was developed with an eye to support Vista and Exchange Server 2007.
Also, the user interface is more impressive, and it supports the latest versions of Mobile Office products such as Excel, PowerPoint, Word and Outlook, Sean Ryan, an IDC research analyst for mobile enterprise devices, told TechNewsWorld.
"One important new feature is that it offers remote wipe capability," he noted, explaining that IT departments are able to wipe confidential data from a smartphone if it is stolen or lost.
"Basically, how it works is that the IT department can remotely send code when the device is turned [on] and logged into the cellular network's system that would wipe the device of this information," Ryan explained.
More New Features
Other new features allow users to view e-mails in HTML format with live links to Web and SharePoint sites.
Windows Mobile 6 also offers Windows Live for Windows Mobile, allowing users to, chat with more than one person at one time, send a file or image, or record and send voice notes.
Like previous versions, Windows Mobile 6 devices use Direct Push Technology for e-mail delivery and automatic synchronization of Outlook calendars and contacts through Microsoft Exchange Server.
In this version, nine new one-click e-mail options have been added, including "reply all," setting a flag, moving a message to a subfolder, and automatic out-of-office reply through integration with Exchange Server 2007.
IRM and Laptop Connectivity
Other security features include information rights management technology, which controls the viewing, storing and printing of confidential information on PCs. This feature is not available on any other mobile phone platform, according to Microsoft.
New mobile versions of the .NET Compact Framework and SQL Server have also been built into Windows Mobile 6 to support sales tools, inventory tracking and other business applications.
Smartphones with Mobile 6 can also be used as a high-speed modem for laptop connectively with either a Bluetooth wireless or cable connection.
Other functionality in the platform simplifies integration of a VoIP (Voice over Internet Protocol) solution for operators and device makers.
Incremental Improvements
Nonetheless, Mobile 6 provides only incrementally improved functionality.
"It's good stuff … but nothing really drastic," Ryan commented.
"It is not compared to Windows Mobile 5, which was a huge update and required the redesign and rewrite of software to many applications," David A. Milman, CEO of Rescuecom, a computer repair and technology support firm that offers mobile computing integration, design and development, told TechNewsWorld.
"Changes in Crossbow are more along the lines of the 5.2 release," he added, noting that most applications that run on Mobile 5 should work well enough on Mobile 6.
The Bigger Picture
Looking ahead, one change Milman would like to see for smartphones is greater support for battery life.
"That is one challenge with smartphones now. People complain they have to reboot the phones too often," he said. "Hopefully this is something that will improve if not with Crossbow, then with the next release, which has been code-named 'Bhoton.' That is supposed to be the next major overhaul of Mobile Windows."
The bigger takeaway is that the new release illustrates Microsoft's commitment to fit mobile functionality in with the overall enterprise computing strategy, Ryan concluded.
"On a strategic level, one can see that Microsoft is looking to align different organizations and product offerings to the enterprise," he said.