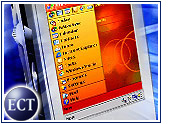 After a slight slip of the tongue associated with disclosure of its plans and program for speech-command software, Microsoft has confirmed it will release the new software for Pocket PC handhelds and phones on Monday.
Information about the new Voice Command software — which will allow users to verbally access contacts, calendar and media player — leaked earlier this week onto the Handango.com Web site, where the new software will be sold for US$40 beginning next week.
The new voice-command software — for use on the Windows Mobile 2003 operating system in PDAs and smartphones — reportedly enables voice control of different applications without recording or training.
Voice Gets Clearer
Yankee Group mobile devices analyst John Jackson told TechNewsWorld that although demand for voice-command capability is somewhat of a question mark, the technology has benefited from its relatively long history.
"The technologies are certainly evolving rapidly," Jackson said. "The ability to get lightweight voice-recognition capability into these PDAs and handsets has improved."
He added that with most major vendors supplying voice-command capabilities in either network- or device-based solutions, implementations of the technology are requiring less training as they advance.
Speak Now
According to Microsoft, the new Voice Command software will let users launch any application that is put in the start menu by speaking simple commands such as "word" or "inbox" to access documents or e-mail.
Users with Pocket PC devices and upgraded Windows Media Player software also will be able to use voice commands to control music and video playback on PDAs and mobile phones.
While the software is targeted toward both professional and consumer users of Pocket PC devices — including Motorola's MPx200, the first to run Windows Mobile operating system — Microsoft indicated the new Voice Command technology is intended to deliver computing convenience and safety for people who are driving.
Speech Makes Noise
Microsoft's announcement comes on the heels of a new Pocket PC release from Toshiba that touted voice-command capabilities.
Toshiba added voice-control and text-to-speech software to its new consumer-oriented Pocket PC e400 and the high-end e800 series, enabling users to open applications by speaking the words "contacts" or "calendar," among other voice commands.
Toshiba's new PDAs also come with software that will allow audible playback of e-mail messages, schedules and other text.
Making It Work
IDC analyst Alex Slawsby told TechNewsWorld that although it is more difficult to put voice-command technology on handheld devices because they have limited memory and processing power, that is where demand for this kind of capability is strongest.
Slawsby, who already has sampled Microsoft's new software, said Voice Command succeeds in delivering limited voice-controlled functionality that is vastly improved from prior versions of the technology that required "unhuman," stuttered speech or extensive device training.
"It does a relatively limited number of commands, and it does them well," Slawsby said. "It's pretty limited, but the point is it actually works."
Heard on Games, Too
As it prepared to release the new Voice Command software on November 3rd, Microsoft also unveiled new voice-command technology for two Xbox games: Tom Clancy's Rainbow Six 3 and SWAT: Global Strike Team.
Microsoft licensed speech technology from Salt Lake City, Utah-based Fonix to give players access to game features, command functions and menu navigation simply through spoken commands.
"With Fonix voice technology making games more fun to play, we expect this added feature to expand market demand for games that incorporate this compelling new interface," said Fonix Mobile Wireless vice president Tim Hong.