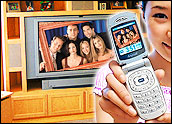 In a move that could further accelerate the adoption of mobile video, MobiTV said Thursday it would make available a version of its software designed for smartphones and handheld devices running Windows Mobile 5.0.
Windows Mobile devices join the list of gadgets that can be loaded with MobiTV software, which is being offered at US$9.99 per month, a cost that comes on top of monthly data and voice charges. The service lets cell phone users view video, including downloaded clips and live television feeds, in full-screen format. It can also be used to access other content, including digital radio.
Windows Mobile is "particularly well-suited for multimedia," said Ben Feinman, director of product management for Emeryville, Calif.-based MobiTV. "The experience is amazing," he added. "We think everyone needs to see it to believe it."
The launch adds to the 100 different devices already supported by MobiTV, Feinman said.
Slowly but Surely
MobiTV can be accessed by Alltel and Cingular Wireless customers, and Sprint Nextel customers in the U.S., as well as some international users of Verizon International. Last month, it unveiled a plan to offer its services to users of AT&T's WiFi hotspot network.
Typical channel lineups include video from the major TV networks and cable channels, as well as niche channels such as ESPN. The content is usually modified to be viewed on mobile devices.
Propagating devices is one of several key elements needed to be in place before mobile video can become a mainstream technology. That work is well under way, with some 1.1 million video-ready devices sold last year and some 30 million people in the U.S. expected to have both devices and services to handle mobile video by 2010, according to research firm In-Stat.
More work remains, however, including the need to seed demand among the public for the service, said telecom analyst Jeff Kagan.
"Eventually, people will treat their mobile phones as the third screen, as much a part of their lives as the TV and the PC," Kagan said. "That will take time, however, as the early adopters are still just beginning to take mobile video out for a spin."
Speed Kills
Costs will likely need to come down before video on mobile handheld devices can go mainstream, Kagan said, predicting that would happen in short order as competitors vie for market share in the device space.
Also needed are more fast wireless networks, with high-speed broadband wireless still being rolled out in the U.S. In contrast, in markets such as Korea and Japan that are all but saturated with high-speed wireless access, it is much more common to see people watching mobile video on the sidewalk or on subways, Kagan noted.
For Microsoft, meanwhile, the addition of MobiTV means it can promote its platform as a way to make a single device an all-in-one tool that "goes beyond e-mail and can be customized to suit [a user's] active lifestyle," said James Pratt, lead product manager for mobile at Microsoft.
Microsoft is seen gaining traction with Windows Mobile as more devices are being built to handle it and as more carriers jump on board. Competitors such as Research In Motion's BlackBerry had early traction, but may not be able to translate that into broad consumer adoption. Microsoft may have an edge because its devices offer similar functionality to its desktop applications, which are among the most widely used by both businesses — the early adopters of smartphone technology — and consumers.
Microsoft has made big strides in the mobile space, most notably by burying the hatchet with Palm (Nasdaq: PALM) to introduce a Windows Mobile-loaded Treo last year, noted JupiterResearch analyst Michael Gartenberg. Though it had some stumbles out of the gate and lost precious time, "Microsoft has the potential to be a very strong player in the mobile space," he said.