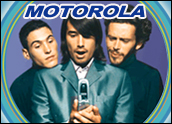 Through both its partnership with Apple and its new iRadio service to be tested in the U.S. next month, Motorola is looking to expand the capabilities of its handsets, making mobile phones into multimedia platforms that allow consumers to carry their music wherever they bring their cell phones.
Motorola, which will soon offer Apple's popular iTunes music service over some of its multimedia handsets, is also highlighting its iRadio solution — intended to use high-speed Internet connections, Bluetooth wireless technology and affiliation with Internet broadcasters to deliver commercial-free radio through mobile handsets.
With some additional technology and possible deals with automakers, the iRadio solution will also allow users to play their music on car stereos, the company said last week.
Motorola's multimedia moves — being matched by a number of other satellite and wireless service providers in various forms — are an effort to take advantage of the increased power of mobile phones, which have proved to be one of the most pervasive technologies for consumers.
"Motorola wants to be on the cutting edge of the evolution of the device," Ovum vice president of wireless telecoms Roger Entner told TechNewsWorld.
Extending Reach
Motorola, which has indicated it will sell iRadio as a subscription for less than US$10 a month, said iRadio will "mobilize" commercial-free Internet radio, giving broadcasters the ability to extend their services beyond the PC to consumers in the car and on the go.
Motorola also said the service provides music labels and producers a secure, direct way to reach consumers.
"Digital entertainment should be accessible wherever the consumer wants it," said a statement from Motorola vice president and general manager of media solutions Mike Gaumond earlier this year. "With Motorola iRadio, consumers can enjoy a seamless, personal music experience as they move throughout their day."
Natural Evolution
Ovum's Entner said Motorola is reacting to the fact that mobile phones have become both more capable and more important for consumers.
"I think it's a natural evolution of the phone being ever more powerful and a multi-purpose tool," he said. "It's a multi device that we don't mind carrying around because it's so valuable."
While Entner indicated Motorola is moving as fast as any other player, he said a key factor in the success or failure of iRadio will be how the technology and service are priced.
The Good and the Bad
He also indicated that its partnership with Apple would likely help Motorola make its mulitmedia pitch to consumers.
"Apple is certainly one of the thought leaders and innovators in consumer devices," he said. "Here, they just associate themselves with one of the winners in that regard."
However, Entner added that there is some apprehension on the part of the recording industry and wireless carriers because of the iTunes 99-cents-per-tune price structure.
"It creates hesitation on the part of the wireless companies — which don't want to feel the wrath of the record labels," he said. "Also, carriers are not being enthusiastic about (an iTunes-enabled phone). That is less about the phone than it is about Apple's business model."