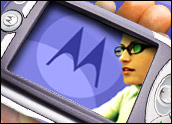 Motorola has inked partnerships with two iconic Internet service providers — Google and Yahoo — to provide access to search for Web-enabled phones.
The company will begin shipping handsets that include one-click buttons on the keypad and carry the Google icon sometime during the first quarter of this year.
The Yahoo Go Mobile initiative is a more comprehensive set of services, including Internet access from a cell phone as well as via television and PC. This service will first become available on the Nokia smartphones.
Untenable Model
There is a demand for this new functionality, Motorola believes. "Many of our customers have been asking for mobile devices integrated with their consumers' favorite online search services," said Scott Durchslag, corporate vice president and general manager of Global xProducts for Motorola's Mobile Device business.
Until now, the Internet access services offered by cell-phone manufacturers have met with limited success.
"Thus far, operators have taken a portal-centric approach to delivering an online experience to mobile phone users," Yankee Group analyst John Jackson told TechNewsWorld. "They provide a finite set of services to users."
The reasoning, he said, is that operators must be able to ensure that users have a good experience — "and if they start surfing all over the Web and try to access a page with a lot of graphs, for instance, the network probably won't support it."
In short, many cell-phone data networks are not conducive to a good HTML browsing experience, Jackson said, and the current model is untenable over time.
"If the phone is to become an Internet appliance, it has to behave like the desktop," he insisted. "Users will demand access to what they want — not what Verizon, for example, prescribes."
Supply Leading Demand
Unlike online music-subscription services, mobile search is a business model in which supply will lead demand, Jackson predicted.
"Consumers don't know if they want something until they see it," he reasoned. "For example, a few years ago, we queried consumers as to their demand for MP3 music made available over their cell phone. The response was muted. Providing search in a mobile environment is another case of manufacturers taking a bet that they can generate demand once the product is released."
The latest round of announcements is indicative of companies trying to generate as much buzz as possible in the marketplace, Mukul Krishna, an analyst with Frost and Sullivan, told TechNewsWorld. "It makes Wall Street happy when a company can say something new is in the works."
The consumers who are able to afford an Internet-enabled smartphone probably have mobile access via their PDAs and Blackberries already, he suggested. "This service will be redundant in that respect."