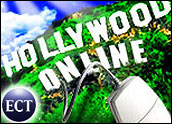 "Strange Bed Partners" sounds like a viable name for a good movie. It also characterizes the new business alliance formed by Warner Bros. Entertainment and its erstwhile enemy BitTorrent — a peer-to-peer network that has become synonymous with online trading of pirated movies.
The movie studio is allowing BitTorrent to sell and distribute its movies and television shows over the Internet at as-yet-undisclosed price points.
It is an unusual alliance, considering the animosity Hollywood harbored toward the peer-to-peer networks only a few years ago. The studios had watched music CD sales plummet, and it was widely assumed that the music industry's downward spiral was due to illegal downloading of songs from peer-to-peer Web sites.
It was only a matter of time, the reasoning went, until DVD sales would suffer the same fate. Probably the most visited peer-to-peer site in its heyday, BitTorrent put a face to this activity for studio and music executives.
Make Money Not War
That was then. Now, Hollywood has several business issues it must solve and has turned to its former adversary.
These include establishing a brand-name online distribution system for its movies that can support high definition content when it becomes more available. More fundamental, Hollywood has yet to produce its own version of iTunes — a one-stop shop music store where consumers can download songs without knowing or caring which music studio has licensed the copyright.
Few would have thought that vehicle would be BitTorrent — although there have been reports of studios considering licensing content to the site even though it is still easy to engage in illegal downloading there.
Warner Bros. appears to be the first to make that leap. The thinking at the company, according to accounts, is that even if it converts only a small number of users, it will still be capturing revenues otherwise unrealized.
Smaller Company Cachet
If nothing else, Warner Bros.' gamble on BitTorrent is emblematic of the cachet smaller companies have developed in the tech community, according to Charles King, principal analyst of Pund-IT Research.
"They have continually outpaced larger established firms, as far as figuring out effective ways to leverage the Internet to deliver content," he told TechNewsWorld. "It should turn out to be a good deal for Warner Bros., and it certainly is a high profile win for BitTorrent."
Indeed, the movie industry has been rather slow to adopt Internet-friendly business models. It was only this year that seven studios, including Warner Bros., began offering movies for download on the same day they became available on DVD.
Like the BitTorrent transaction, it was another first — previously movies had been available only for rent over the Internet — unless, of course, you got them from BitTorrent.