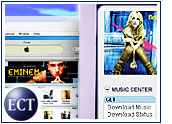 The list of legitimate alternatives to the music-trading networks that were used by nearly 60 million people last year grew larger this week with a new service from San Diego-based MusicMatch.
Similar to Apple's successful iTunes, which claimed 10 million downloads earlier this month, MusicMatch will let users download songs for 99 cents each without a subscription. Like iTunes, each MusicMatch download is restricted according to a set of uniform rules: Tracks are playable on as many as three PCs, can be transferred to Windows Media-supported mobile players and can be burned to CDs.
According to MusicMatch, CD burning is limited to five recordings. But despite these restrictions, Gartner research director Mike McGuire told TechNewsWorld that MusicMatch represents another stage in the evolution of download services.
"We're seeing increased gains in some liberalization of these models through the big labels, because that's who controls them," McGuire said. "The unlimited, all-you-can-eat service is still a ways off, though."
Format for Labels
Despite offering widely used software that is compatible with the open MP3 format, MusicMatch's new service delivers songs in Windows Media format — a format that can be controlled with digital rights management (DRM) software. The downloads are accompanied by high-resolution cover art images as a "content bonus," MusicMatch senior vice president Christopher Allen told TechNewsWorld.
Allen said the loosened rules for users of MusicMatch, which touts a catalog of 200,000 songs from the five major labels and 30 independents, were made possible by the Windows Media format, which not only secures music files with DRM, but also has broad industry support.
"It allows flexibility on the side of the consumer, but also meets the security needs of the labels," said Allen, whose company hopes to make half a million tracks available by the end of the year. McGuire, who called the MP3 format "wide open," said the highly portable digital form "freaks a lot of people out."
Ownership Ideas
With several existing legitimate online music services — and more to come from the likes of Dell, Amazon and Roxio — McGuire said the rules that govern digital use and ownership likely will be the yardstick of consumer acceptance.
The analyst said ownership increasingly is being viewed as an issue of access rather than the number of CDs on the shelf or songs on the hard drive, particularly by younger music fans. "This is not set," McGuire said. "How this plays out against the issue of ownership — that's how these services will be able to differentiate themselves."
McGuire, who referred to uncertainty about Apple's release of iTunes for Windows PCs, said the legitimate download services are more dependent on licensing deals with the record industry than on technological innovation.
"Simply getting access and providing liberal terms that take into account multiple devices, multiple access — that's the big deal," McGuire said. "It is less about complex, new code, and it's more about how good is their attorney at negotiating license deals."
These are not technical issues, he pointed out. "They're struggling with business model issues, and [the new services could amount] to a loss of control over distribution."
RIAA Subject of Hearings
In related news, the Recording Industry Association of America, which has pointed to legitimate music download services as an alternative to illegal file-trading services such as Kazaa and Grokster, is the subject of U.S. Senate committee hearings this week in Washington, D.C.
The RIAA's use of nearly 1,500 subpoenas served to resistant ISPs and more than 260 lawsuits launched against alleged file-trading pirates will be considered by the Senate Committee on Governmental Affairs, which is chaired by Sen. Norm Coleman (R-Minnesota).
"I want to seek balanced solutions that preserve individual privacy, protect industry copyrights and look to a future in which the music and motion picture industries are ahead of the digital curve in creating new customers instead of alienating them," Coleman said in a statement.