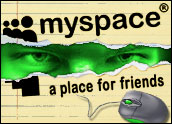 MySpace has introduced aggressive new measures to protect users — particularly children and adolescents — against sexual predators. Up until now the social networking site has made incremental changes to its policies, usually in response to parental or congressional outcry. This latest set of steps, however, are arguably the most aggressive the popular site has taken thus far.
The new measures are part of a deal MySpace forged with 49 state attorneys general, many of whom had been increasingly viewing this and other sites with dismay and, in some cases, prosecutorial intent. Texas is the lone state that is not partnering with MySpace in this effort.
The most important measure is MySpace's agreement to create and lead a task force that will develop technology and processes to verify ages and identities online. The task force will report back to the AGs by the end of the year.
Immediate Measures
More immediately, minors on MySpace will be able to automatically default their profiles to private; users 18 years or older will not be able to browse for users under 18; no user will be able to browse for users under 16 years of age; and users older than 18 years cannot add those under the age of 16 unless they know his or her last name or email address. Parents that don't want their children at all on MySpace can submit their child's email address to MySpace to be blocked.
MySpace has also hired a contractor to screen photos and videos for inappropriate content as part of this new agreement.
How Effective?
To be sure, many of these measures are more potent in word than actual effect. For instance, a child whose email has been blocked from MySpace by his or her parents can easily do an end run by signing up for another account. However, this agreement — as well as an earlier one Facebook formed with the New York attorney general — signifies a greater willingness by these sites to take responsibility for their users' safety.
These sites are sure to continue to adopt safety measures and those steps will grow in efficacy, Kathryn C. Montgomery, a professor at American University and author of a chapter in The MacArthur Series on Digital Media and Learning: Civic Engagement, told TechNewsWorld.
"These companies are under heightened scrutiny now — more than ever before," said Montgomery, who also was instrumental in helping to pass the Children's Online Privacy Protection Act. Indeed, one concern she has is that the pendulum might swing too far in the other direction and stifle the medium. "We will need to ensure that these spaces continue to nurture and support young people's development into adults."