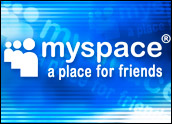 Vowing to play a "powerful role" in the 2008 U.S. presidential election, MySpace.com has introduced a portal featuring candidate-created profiles as well as voter-registration tools, job listings, videos, "friends" pages and other political content.
MySpace, owned by Rupert Murdoch's News Corp., dubbed the new portal "The Impact Channel" and said it believes the service will play a big part in the way candidates interact with voters.
"As the country's most trafficked Web site, MySpace will play a powerful role in the upcoming election," predicted MySpace CEO Chris DeWolfe. "Our digital candidate banners will be the yard signs of the 21st Century and our political viral videos and vlogs are the campaign ads of the future."
A Firm (Virtual) Handshake
DeWolfe's yard sign analogy might be a bit too conservative. MySpace's Impact Channel will go far beyond being a Web equivalent to a candidate yard sign, predicted Julie Barko Germany, deputy director of The Institute for Politics, Democracy and the Internet at The George Washington University.
The interactivity of The Impact Channel makes it more akin to the ubiquitous "town meetings" that occur during every election where candidates meet, greet and otherwise schmooze prospective voters, Germany told TechNewsWorld.
"My first thoughts about this were, in past presidential campaigns, political candidates used to go where the people were, like state fairs or the diner in town," said Germany. Candidates will go wherever they need to go to encounter voters, including the Web for virtual encounters. "We are seeing more and more people hanging out and spending their free time online," she noted.
A Web 2.0 Election
The Impact Channel will "empower politicians, nonprofits and civic organizations to connect with MySpace users around the world, DeWolfe said, adding that the portal has — or will soon have — "a voter registration tool, links to all official candidate profiles, content from Good magazine, Impact-related event and job listings, videos, and programs."
Money drives candidacies and MySpace isn't ignoring that fact. The candidates' MySpace sites "will be enabled with a customized, viral fundraising feature," the company said.
MySpace "will be a primary hub of activity" in the campaign and "will confirm once and for all that the Internet is not just an adjunct to the traditional political landscape, but an entirely new and distinct battlefield where voter generated content will drive much of the discourse, upend the conventional wisdom, and impact the election in ways that the traditional political and media establishment is just beginning to understand," claimed Andrew Rasiej, cofounder of techPresident.com.
Nothing Beats Reality
Despite that predicted influence, nobody is saying The Impact Channel will mark the end of the rubber chicken circuit. Streaming video of candidates, while convenient and somewhat effective, cannot replace kissing babies and jocular back-slapping.
"The Internet still hasn't found a way to replace the intense energy and the sort of rock-star connection people feel to political candidates when they meet them in the flesh," Germany declared. However, she noted, MySpace comes in handy because "a presidential candidate can't be everywhere at once."
For Impact's debut, ten presidential candidates, five Republicans and five Democrats, launched MySpace profiles: Joe Biden, Hillary Clinton, John Edwards, Rudy Giuliani, Duncan Hunter, Dennis Kucinich, John McCain, Barack Obama, Ron Paul and Mitt Romney.