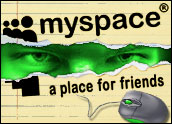 Social networking Web site MySpace has found and purged more than 29,000 sexual predators using the site, a number described by Connecticut Attorney General Richard Blumenthal as an "exploding epidemic."
The figure is more than quadruple the amount MySpace said it found two months ago. In May, MySpace — which allows users to create their own Web pages — said it banned from its site about 7,000 people discovered to be sex offenders.
The information was divulged only after state attorneys general took legal action against the Fox-owned MySpace. "Our information demands reveal shocking new skyrocketing numbers of convicted sex offender profiles on MySpace," said Blumenthal on Tuesday. "Each of these 29,000 separate profiles reflects a potential predator willing and able to exploit a child. These alarming and appalling numbers dramatize the urgent need for stronger protection against predators who may prey on children."
Not Much to Say
MySpace refused to grant interviews or otherwise confirm the new figures. Company spokesperson Dani Dudeck would only release a written statement in which MySpace Chief Security Officer Hemanshu Nigam said the company was glad it caught the offenders and urged its competitors to do the same.
"We partnered with Sentinel Tech to build technology to remove registered sex offenders from our site," said Nigam. "Through this innovative technology, we're pleased that we've successfully identified and deleted these registered sex offenders and hope that other social networking sites follow our lead."
The site has "zero tolerance for sex offenders on MySpace and successfully identified and deleted them" from the site. "To really stop giving predators a free ride on the Internet we need legislation. We're pushing hard to pass laws that force predators to register their e-mail address, just like they have to register their street address in the real world. Once registered, we, and other Web sites, can block them from joining our communities. Ten states have already passed this law," the company said in a statement it categorized as "background."
Clear and Present Danger
The new numbers point to a need for MySpace to do more, Blumenthal said.
"These numbers dispel any doubt that age verification and other reforms are overdue and undeniable," he said. "Steadfast opposition by MySpace to age verification and parental permission for minors has no shred of credibility. We hope that MySpace and other social networking sites will be convinced by this clear and present danger — 29,000-strong — to support effective reforms."
Roy Cooper, North Carolina's attorney general, who had joined in demanding MySpace to provide the sex offender information, joined Blumenthal in expressing outrage at the new number. "That number includes just the predators who signed up using their real names and not the ones who failed to register or used fake names or who haven't been convicted," said Cooper.
Legislation Gains Support
He wants social networking sites to be required to obtain parental permission before children can join, among other crackdowns.
Cooper "learned about the additional profiles of sex offenders found on MySpace last week from MySpace" and Tuesday shared the information that MySpace has found more than 29,000 profiles of sex offenders on its site with a North Carolina House of Representatives committee. Cooper was testifying in support of a parental permission law, Cooper's spokesperson, Noelle Talley, told TechNewsWorld.
Well-Meaning but Imprecise
Some proposed legislation aimed at preventing sexual predator use of social networking sites is overly broad or simplistic, said Emily Hackett, executive director of the Internet Alliance, a trade association.
"We don't represent MySpace, which is the target of the legislation, but we do represent other companies that have or are going to have social networks," Hackett told TechNewsWorld. "One of the problems with legislation is that the definition of a social network is very broad. One could argue the whole Internet is a social network."
However, "everyone agrees that convicted sex offenders shouldn't be online where they can commit another crime. We support legislation increasing the penalties and giving parole officers the right to randomly check e-mail and have sex offenders register, as they do already for Megan's List list and there a sex offender registry that exists," Hackett said.
Parental-control software is "possible and a good thing" as are systems now being used by sites, including MySpace, to remove users that show signs of suspicious activity, she added.
'Upside-Down Approach'
JupiterResearch analyst Barry Parr took issue with the approach taken by the attorneys general, suggesting they were looking to grab headlines and were pushing for laws that would infringe on everybody's privacy and right to anonymity.
"I think it's stupid to look at anything like this," he told TechNewsWorld. "The Internet's a communication medium. If you want to control the communications of offenders, you don't do it by controlling the communication media. You don't have telephone companies registering sex offenders or the post office."
Law enforcement, Parr said, should keep track of sex offenders' actions. "But you don't make the rest of us pay consequences," he added. "There are good and valid reasons for anonymity on the Web. People should be allowed to speak anonymously. If you have verification of identity and tracking of what everyone does … society is going to be diminished. I think this is an upside-down approach to tracking sex offenders."