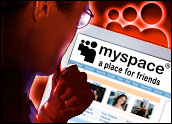 MySpace has forged agreements with other popular Internet sites — Yahoo, eBay, Photobucket and Twitter — to permit MySpace users to migrate their data. Profiles, videos and friend networks are among the content that can be ported. They can then access the partner sites using their MySpace user names and passwords.
For example, MySpace users who share content and data with Yahoo Instant Messenger could incorporate their MySpace photo, interests and favorite music in the IM Messenger client. Upcoming releases will give users even more choices about where and how their content can be displayed on partner sites. For example, they may include the option of sharing content within Yahoo's universal profile or leveraging it in Yahoo Mail's smarter in-box.
The initiative employs the open standard OAuth and RESTful application programming interfaces to support integration among the sites.
Larger Embrace of Portability
MySpace says data availability is the first step of a larger portability initiative in its pipeline. "The walls around the garden are coming down — the implementation of Data Availability injects a new layer of social activity and creates a more dynamic Internet," said Chris DeWolfe, CEO and cofounder of MySpace. "We, alongside our Data Availability launch partners, are pioneering a new way for the global community to integrate their social experiences Web-wide."
As part of this embrace of open networking, MySpace has joined the Data Portability Project, which is creating standards for the transfer of data among the various networking sites. Digg, Microsoft, Facebook and Google are among the participants.
Nobody Likes an Island
Opening their platform to developers was a necessary step for the company in the face of increasing user growth on other communities and pressure from content providers seeking access to the high levels of engagement among MySpace's users, Eric Litman, managing director of WashingtonVC, an early stage fund and incubator, told TechNewsWorld.
"What MySpace announced today — data portability for their users — is analogous to their platform announcement for developers," he said. "The key point behind each initiative is the fundamental shift from control to empowerment. The more the company enables others to drive the community's innovation, the less likely that shifts in trends will diminish their popularity and position as a social barometer."
No one wants to maintain the current chain of island networks, N. Venkat Venkatraman, a business professor at Boston University, told TechNewsWorld. "I believe we will start to see other social networks take similar steps."
Still New
Social networking is still feeling its way with open networking and other business initiatives. The idea is relatively new among the providers, many of which established their business models on closed platforms that they were loath to open to competitors.
Indeed, the Data Portability Project sprang up when Facebook evicted a user for attempting to port his content to a rival network. Demand for portability is growing among Web 2.0 users, though, who have shown little inclination to remain faithful to just one application. Even Facebook has made an about face on the issue, as evidenced by its membership in the project.
Privacy Questions
Users would do well to start paying attention to these new partnerships, Venkatraman cautioned.
"More and more, we have to ask ourselves, who do we trust with our digital identities?"
A person could decide to trust Google, which tracks everything a user searches online. "But if Google partners with someone else, and that firm can access your search data," he said, "how do you know it won't misuse it?"