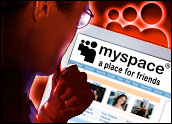 MySpace has introduced its own version of single sign-on functionality, a move that follows on the heels of a handful of announcements last week from competing social networks.
MySpace Open Platform is a suite of products that includes the MySpace Application Platform, MySpaceID — formerly called "Data Availability" — and Post-To MySpace.
MySpace also announced several partners that will be participating in MySpaceID, which allows users to sign on to participating third-party Web sites from the MySpace platform. These new partners include Vodafone and Netvibes, which are currently developing MySpaceID implementations. MySpaceID is already live with AOL, Flock, Eventful, Flixster and Yoono, among others.
Perhaps most significantly, MySpace is supporting Google Friend Connect as a component of MySpaceID. Google Friend Connect enables any Web site to easily provide social features. Built on open standards, MySpaceID also supports OpenSocial, OAuth, and OpenID.
MySpace did not immediately respond to TechNewsWorld's request for comments.
Late to the Party?
MySpace first announced its open platform initiative several months ago. However, Facebook, Google and Power.com, a new entrant, rolled out their own initiatives last week. These products built on earlier developments in the data portability movement.
"Single sign-on is important because it promotes loyalty to a site," Rob Enderle, principal analyst for the Enderle Group, told TechNewsWorld, "but the goal is to be first out of the gate with something like this — if you are using another system already, it is not likely you are going to switch."
At this point, "this is more of a stop loss strategy for MySpace rather than a real initiative to advance its brand," Peter Cohan of Peter Cohan & Associates told TechNewsWorld.
Competing Models
Still, discerning users of these platforms may well opt for a more recent rollout than an earlier version if it fits their particular needs.
All of the platforms differ to some degree, Hyun-Yeul Lee, assistant professor of communication at Boston University, told TechNewsWorld.
"Facebook Connect, Google Friend Connect and MySpaceID are about allowing users to hold, metaphorically, a passport to connect or navigate with other partner sites," she said.
"Power.com, on the other hand, is a reverse strategy — an aggregator. It is a place where all your social sites are available in one place, and you can use your various log-ins to get all those sites connected and available to you in one place," she explained.
Essentially, the platforms divvy up according to whether users are able to go to different sites using one ID versus going to one place where all sites are accessible, Lee noted.
Open Standards Play
There is another differentiator between the competing platforms that is worth mentioning: MySpaceID is built on a more open developer-minded standard, Lee pointed out, whereas Facebook Connect uses proprietary methods.
The open nature of MySpace — along with its partnership with Google — will give Facebook serious competition, according to blogger Rick Turoczy.
"In stark contrast to the proprietary nature of Facebook Connect — MySpace had chosen to rely on the Open Stack, using OpenSocial, OAuth, and OpenID to build its service," he wrote. The launch of MySpaceID "has helped Open Standards take another step forward, as well."
Furthemore, MySpaceID includes Google Friend Connect — a service that Facebook has yet to use. "The mix of MySpaceID and Google Friend Connect enables MySpaceID partners to deliver even more social functionality, without a great deal of development time," notes Turoczy.
MySpace's initiative "fires a very real shot across Facebook's bow," he says. "And continues to set the stage for the tag-team match between the more proprietary Facebook-Microsoft and the more open MySpace-Google.