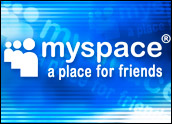 MySpaceTV will relaunch "Quarterlife," a network television pilot about a group of recent college graduates that aired briefly on ABC in 2005. Accompanying the show's Nov. 11 resurrection will be a social networking site for fans, complete with the usual Web-related content, such as character profiles. The television show's reappearance on the Internet is unusual, in that most original online entertainment content is presented with an eye to making the leap to network television or general theatrical release.
"Quarterlife" is not the work of industry novices, however. The creators, Marshall Herskovitz and Edward Zwick, have a long and impressive resume, including such popular TV shows as "My So-Called Life" and "Thirtysomething." Their latest effort, which was originally dubbed "1/4 Life" — was reportedly pulled after its short run on ABC due to creative differences.
Medium Is Ready?
The pair's decision to give "Quarterlife" new life on MySpaceTV illustrates the growing power of the social networking site as an entertainment channel.
"I definitely believe that Internet TV will develop into a mainstream offering," Heather Polinsky, assistant professor and audio unit manager at Central Michigan University, told TechNewsWorld.
An important factor propelling that eventuality is the development of such portals as MySpace and YouTube. "These are Web sites that are very easy places to navigate and post content," she noted.
In earlier years, independent content developers had to struggle with a fragmented roster of Web sites, as well as the frustration of users with the glitch-prone software necessary to watch the videos.
Holy Grail
Still, the Internet will never supplant network television and the entrenched advertising and revenue models that have developed around it, according to Polinsky. For one thing, most Internet TV shows do not fit the 30-minute television series model, which is still a favorite among consumers.
"Quarterlife" will run in eight-minute segments, with two shows airing per week. Ads will run in the videos; MySpace and the producers will share the revenue. Product placement contracts will also bring in cash.
Growth Industry
More shows will likely be developed exclusively for the Web — and they may or may not migrate to network television.
"You don't see that yet very much — shows developed strictly for the Internet — but it is inevitable," Brian Fairweather, director of operations at InfoMedia, the producer of the "Next Internet Millionaire," a made-for-Internet series. "Viewership on the networks is down," Fairweather told TechNewsWorld, "and consumers are turning to all sorts of alternative venues for entertainment."