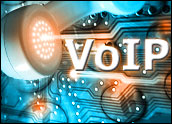 A new company called "Ooma" is introducing a peer-to-peer (P2P) Voice over Internet Protocol (VoIP) network that will result in free domestic calling for its customers, a concept it says will revolutionize home telephony.
The Silicon Valley company, which includes industry veterans such as TiVo cofounder Mike Ramsay and Napster cofounder Sean Parker on its board, will charge a onetime fee of US$399 for a gadget called an "Ooma Hub." After that, all domestic calls will be free, the company said.
It expects to make revenue by charging for international calls and selling extra boxes, called "Scouts," at $39 each to connect additional phones and other special services.
Hardwired VoIP
The Hub is plugged into a broadband connection as well as a phone. Unlike service with other VoIP providers, you can retain your existing traditional telephone line for 911 calls or for use during Internet outages, the company said.
While most VoIP vendors charge users monthly fees — usually in the range of $25 — for packages that provide unlimited long-distance calling, Ooma says it will charge no monthly fee.
Ooma differs from other VoIP services in that it uses peer-to-peer technology in which every Hub becomes part of the distributed Ooma network and can be accessed by the system to place local calls. Since some Ooma users will continue to have their phones connected to the copper phone line network for 911 purposes, their connections will serve as local gateways to the public switched telephone network (PSTN). That way, Ooma can get around paying a good portion of the termination fees to phone companies that other VoIP players must shell out.
Doubting Thomases
The Ooma announcement comes shortly on the heels of the shutdown of SunRocket, a big VoIP provider that suddenly went out of business recently. Because of the tough environment, Ooma's business model raises doubts with Roger Entner, senior vice president for communications for IAG Research.
"They somehow might piggyback onto the PSTN but it sounds really strange," Entner told TechNewsWorld. "The technology might work, but when it comes to the harsh reality of the business model, I have my serious doubts."
The company doesn't expect sales of Hubs to be its sole source of ongoing revenue, Ooma founder Andrew Frame told TechNewsWorld. He promised additional value-added services that will keep the cash coming.
Seeding the Network
While the Hubs won't go on sale until September, a nationwide invitation-only beta program began Thursday in which Ooma is giving away a bunch of the devices as seeds to start the necessary P2P network.
"I believe that consumers should have a better phone experience, one that combines convenience, innovation and cost savings," Frame said. "Just as consumers transformed the functionality of their television through TiVo and their music with the iPod, we expect that they will reinvent the way they use their home phone with an Ooma system."
Ooma gives homeowners an easy way — those willing to fork over the $399, at least — to add a second phone line. It also comes with a "Broadband Answering Machine," a personalized dial tone and a Web site that allows users to manage voice mail and call settings.
Pass It Along
Ooma is hoping to gain customers through viral marketing. The company will ship the beta program units, called "White Rabbits," with three Ooma "pass-along chips" to be sent to the recipients' friends who will then be able to register online for a free Ooma system.
Ooma has secured $27 million in venture funding from, among others, Draper Fisher Jurvetson, The Founder's Fund, Worldview Partners, Draper-Richards and WI Harper in a series A and B round.