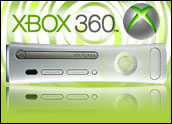 Microsoft added another capability to the Xbox 360's stable of entertainment functions Monday in a partnership with Netflix that will allow users to watch streaming movies and TV shows through the Internet-connected video game console.
The feature, which will launch this fall, will be available to Xbox Live Gold members who are also Netflix subscribers. Gold membership costs US$60 per year.
Microsoft and Netflix promise to make a library of more than 10,000 movies and TV shows available to viewers.
Out of the Computer, Into the TV
The Xbox's Netflix system works in much the same way as that of Roku, a device maker which in May announced a deal with Netflix to sell a small set-top box dedicated to streaming video. The user logs on to Netflix's Web site via a computer and selects videos to move onto the user's Queue. Those selections are then automatically displayed on the TV screen.
The development is one of many attempts the major gaming platforms — Wii, Xbox 360 and PlayStation 3 — have made to widen their entertainment offerings beyond video games.
"It is a big step forward in the evolution of the video game console as an entertainment platform," Mike Goodman, director of digital entertainment for the Yankee Group, told TechNewsWorld.
As the Internet becomes an increasingly practical means to bring full-length video into the home, device makers are attempting to close the final gap between the router and the TV screen. Vudu, for instance, offers high-definition video on demand via a home broadband connection, and Apple TV interfaces with the company's iTunes Store to buy and rent movies and TV shows.
"I'd rather watch video on the TV than the PC," Goodman said.
The deal is also a good marketing opportunity for both companies, Goodman observed. The offering could encourage more Xbox owners to buy Netflix subscriptions, and some of Netflix's many users may look closer at what Xbox has to offer, he noted.
What About Xbox Live Marketplace?
This is not the first time Microsoft has offered users videos through the Xbox 360 — the platform has long sold movies and TV shows through the Xbox Live Marketplace, an online store that users access through the console.
Though there may be some, "I don't think there's that much risk of cannibalization," Goodman said. The Netflix online library, he reasoned, tends to skew more toward network TV shows and smaller-budget and older movies, while download services like the Xbox Live Marketplace are generally able to license more recent, big-budget Hollywood films.
Also, Xbox's Marketplace offers content in high-definition. Netflix's online service — at least in its Roku incarnation — reportedly varies widely depending on the title and the speed of the user's Web connection.