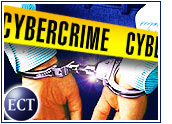 Legislation introduced into the U.S. Congress this week would make uploading a file to a peer-to-peer (P2P) network a felony with penalties of up to US$250,000 in fines and five years in prison.
The bill, sponsored by Rep. John Conyers, Jr. (D-Michigan) and Rep. Howard Berman (D-California), is aimed at closing loopholes in current copyright legislation and more effectively dealing with crimes that are already against the law, an aide to Congressman Conyers told TechNewsWorld.
Yankee Group senior analyst Mike Goodman, who covers file sharing on P2P networks such as Kaaza, Morpheus and Grokster, said the strategy of the Recording Industry Association of America (RIAA) and legislators that back their crackdown on file sharing is alienating customers and voters.
"Every time they win, they get closer to losing the ultimate war," Goodman told TechNewsWorld.
Prison the Price for P2P
The proposed legislation, which targets computer users who upload files to popular P2P networks, might be combined with a less stringent bill currently under consideration, according to Conyers' aide.
Conyers' position is that the proposed legislation — which makes uploading a single file a felony with the possible penalty of severe fines and jail time — does not go too far in dealing with file traders. The aide said that despite education efforts and warnings regarding illegally sharing copyrighted materials, use of P2P networks remains high.
"If people don't think they are going to suffer penalties, what's the point?" she said. "Unless people see the ramifications of what they do, they keep doing it."
Slippery Supply Side
The Yankee Group's Goodman said the strategy of P2P foes currently centers on file uploaders, who are often untouchable by U.S. law because of their foreign origin.
"It's a supply-and-demand thing; they want to cut off the supply," he noted. "The thing is, they can't cut off the supply because the supply will just move to where [the U.S. government] can't touch it."
Despite P2P figures that showed a decrease in activity following the RIAA's threat to pursue file-sharing network users who do not disable uploading capability, he added, P2P use is on the rise once again.
Political Hot Potato
The latest bill from Conyers and Berman – who last year put forth legislation currently under debate to protect copyright holders who impede or disrupt P2P distribution of their content – might be combined with "softer" file-sharing legislation, according to Conyers' aide.
Goodman said the bulk of Congress probably would like to see the issue go away, but that is unlikely given the amount of support on both sides of the issue. The analyst noted that legislators are split between fundraising from the media industries and the possibility of alienating voters by clamping down on P2P use.
Also, saying the proposed legislation has "RIAA fingerprints all over it," he called it unlikely that the latest bill will make its way into law, due to resistance by a Congress unwilling to anger voters.
Broken Business Model
Goodman said P2P opponents seem to be operating on two fronts: one that encourages digital delivery of content, such as the loosening of restrictions for Apple's iTunes service, and a second that entails lawsuits and restrictive legislation.
He added that, fundamentally, the RIAA and its supporters are hiding the fact that the music industry's business model is broken.
"They've been able to hide it," he said. "They controlled pricing, distribution – everything – and they were able to keep prices high; they can't do that anymore, but they sure are trying to protect that business model."