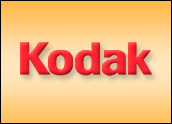 A new sensor design introduced Thursday by Kodak will double, and possibly quadruple, the light sensitivity of digital cameras, according to the company.
Describing the technology as "groundbreaking," Kodak said the advance in image sensor design will drastically improve the quality of digital pictures taken in low-light situations. Image sensors are used to convert light into electrical charges that are subsequently digitized.
The new design advances an existing Kodak technology — the so-called Bayer filter array color image sensors first created three decades ago by Kodak scientist Bryce Bayer — that has become the standard in digital imaging, the company said.
Rise of the Panchromatic Pixel
In Bayer Pattern-based image sensors, about half of a sensor's pixels are used to gather green light. The remaining pixels gather red and blue light. Digital cameras use software to convert the combined data into full-color signals for each pixel.
The new sensors — designed by a team of Kodak inventors including John Compton and John Hamilton — add panchromatic, or "clear," pixels to the red, green and blue ones in sensor arrays.
"Since these pixels are sensitive to all wavelengths of visible light, they collect a significantly higher proportion of the light striking the sensor," explained Kodak. "By matching these pixel arrangements with advanced software algorithms from Kodak that are optimized for these new patterns, users can realize an increase in photographic speed, directly improving performance when taking pictures under low light."
Turn Down the Color Noise
The new design allows faster shutter speeds and higher resolution for sharper photos, the company said.
"In a low-light situation, these new patterns will produce a lot less color noise than a Bayer pattern sensor," noted Hamilton. "You can run the shutter faster, which gets rid of a lot of motion artifacts. It will cut down on camera shake — or if you're taking a picture of a moving object, there will be less blur."
The first sensor to use the new design should be available "for sampling" early next year, said Kodak.
Lost in Megapixel Hysteria?
Kodak's new technology is impressive but now faces a crucial test, said digital photography expert David Etchells, founder of Imaging Resource. The question is, can the company create enough stir to push manufacturers into adopting the new sensors?
"It's definitely going to be a marketing challenge," Etchells told TechNewsWorld, because consumers are obsessed with megapixel numbers.
Although some other factors — such as the light sensitivity issue addressed by Kodak — are more difficult to reduce to a marketing buzzword, they might be more important, he pointed out.
"I think that high ISO — light sensitivity — is a key feature for digital cameras, and it's something particularly hard to do in consumer cameras because the sensors are so small," said Etchells. "Everybody is trying to improve the light sensitivity. It's a pretty key feature for consumers to be able to shoot in relatively dim lighting."
Some camera makers are already touting supersensitivity by using high ISO numbers but failing to mention that the image quality is terrible, he said.
"Everybody is saying their cameras already have high ISO settings, and some manufacturers are making really ludicrous claims," Etchells remarked, "but the pictures are almost totally worthless."
Kodak seems to have found a way to allow higher ISOs "without the image noise that comes with it," he said.
Though Etchells stopped short of characterizing the new technology as a breakthrough, he predicted that it "could have a significant impact — since it looks like they ought to be able to increase the sensitivity of the sensor by at least a factor of two."