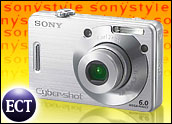 In time for the annual Photo Marketing Association (PMA) trade show that begins March 8, Sony Electronics, unveiled Tuesday a flock of seven new Cyber-shot digital cameras. Many of the new models can be plugged directly into high-definition televisions and feature the company's new face-detection technology.
The new cameras include two new super-thin, T-series models offered in a range of colors for the fashion conscious crowd, three newcomers to the W series — including a 12-megapixel camera touted as being the most compact camera of that resolution — and two new H-series units with improved zoom (up to 15X optical) and accuracy over predecessor models.
All of the new cameras are a notch higher in terms of cost than the point-and-shoot units it previously announced. They range in price from about US$200 to about $480.
The HDTV Factor
The new cameras offer users three ways of connecting the units to their HDTVs: Sony's high-def component cable, Sony's high-definition Cyber-shot Station (which comes with the HD component cable and also charges the cameras) and special "packages" that include the Cyber-shot cradle, a remote controller and an HD printer.
"As HDTV becomes more pervasive in American households, it is only natural to want to view all of your content in high definition, including photos", said Phil Lubell, director for digital cameras at Sony. "Our new cameras support a shift in customer behavior — from viewing digital photos on a PC to having a full entertainment experience in the living room."
Nothing in the new cameras can be considered particularly groundbreaking or significantly differentiating in comparison to the latest models by other digital camera makers.
"I don't think theres anything earth-shaking Sony announced here," David Etchells, founder of The Imaging Resource, a digital camera review site, told TechNewsWorld. "One thing a little different this year is they're introducing HD compatible output in pretty much all the cameras in their line. I think that's a nice feature."
Not Really a Killer App
However, the HD port "doesn't directly pertain to photo-taking" according to Etchells, and he doubted it would be a "dramatic differentiator" between Sony and its competitors.
That view was shared by Parks Associates digital camera analyst Harry Wang. Even though Sony's competitors might not have HD ports on their units, they are surely going to add them in the near future, Wang told TechNewsWorld.
"It's very easy for other vendors to replicate that and offer it to the users," he added. "That's no big deal. If they offer an HD feature on the cameras, they usually have the port."
Owners of HD televisions will enjoy seeing their photos displayed on the big screens in perfect clarity, Etchells pointed out. "Given how many hi-def televisions are out there, I think that's something users will like," he predicted.
Good With Faces
The face-detection technology is a feature Etchells likes. This system can tell when a human face is being photographed and it ensures the face is targeted for the best focusing. The system can recognize up to eight faces in a frame and, in addition to bringing precise focus, also improves other aspects of picture quality, Sony claimed.
"It's a technology that's kind of overtaking the market as a whole," said Etchells. "Sony takes it further, not only guiding focus but also exposure and light balance, overall color and flash metering. That's a bit of an enhancement."
The breathtaking new digital camera features of today quickly become standard, expected features in short order, Wang noted. Vendors, he continued, are "constantly trying to convince users to buy the latest models with the latest features.
"If you look at the low-end market, a 4- to 5-megapixel camera is a commodity now. They can't compete on brands or features. But at the high end, with 7- or 8-megapixel cameras, aside from number of pixels, they have to add other innovative features to persuade consumers this is money worth being spent on a new product — imaging stabilization, faster shutter control — that's the trend," he concluded.