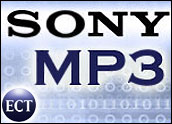 Sony is entering the world of flash memory-based portable media devices that play video.
The company Thursday announced two new Walkman units that could challenge similar devices sold by SanDisk, Creative and others.
However, because the new Walkman NW-A800 series devices are not hard-drive based, comparing them to Apple's market-leading iPod might be a stretch. The new Walkmans will come in 2 GB, 4 GB and 8 GB configurations, while iPods are either 30 GB or 80 GB. Microsoft's new Zune comes with a 30 GB hard drive.
What the new Sony's lack in storage they make up for in size. "The Walkman Video MP3 player is small enough to slip into any bag or pocket," said Sony. Indeed, the units, are only 1.75 inches wide by 3.5 inches high and less than a half-inch thick. They come with 2-inch color LCD screens on which video can be viewed either vertically or horizontally.
The new players will make downloading video content easy with a "simple drag and drop mechanism," according to Sony, and video playback supports the popular MPEG-4 and H.264/AVC Baseline profile formats, at up to 30 frames per second. "File conversion, if needed, can be achieved via the supplied ImageConverter software," Sony added.
Video nano?
Apple's flash memory-based iPod nano currently is a music-only device, but Ross Rubin, director of industry analysis for NPD, told TechNewsWorld he wouldn't be surprised if Apple were to introduce a video model of the popular player. "It's a moving target," said Rubin. "Traditionally, Apple has only had video support on its hard-drive based players, but as the price/performance ratio of flash memory continues to improve, it's conceivable they would have video on a flash-based iPod."
The forthcoming iPhone,which will have music, video and phone capability, is based on flash memory, he pointed out.
Video playback on portable music players is still something most people consider a nice feature, but not necessarily a requirement. "The real issue is that video is still in its infancy," Rubin noted. "Even when Apple introduced the video iPod, as it were, it really threw in the video for free."
If users are mainly looking for small players with high quality, the Walkman brand has traction and Sony, in describing the new units, is not ignoring the players' audio side.
Music Means More
"As with all Walkman products, sound quality is unrivaled," Sony said. "The Walkman brand has long been associated with the highest quality in audio playback and the Walkman Video MP3 player continues to uphold this standard by adding the newly developed DSEE technology which restores the high frequency ranges lost due to compression."
The players also come with three of Sony's so-called "Clear Audio" technologies: Clear Stereo, Clear Bass and Sony unique Digital Sound Enhancement Engine (DSEE).
The players will use lithium-ion rechargeable batteries that can provide up to 30 hours of music playback or 8 hours of video playback.
Easy on the Eyes
Increased screen size is one of the benefits to consumers of the move by manufacturers to include video playback in their portable music players, Rubin indicated. "Since video isn't really driving the market right now, one way to think of it is these are just larger-screened music players," he added. "Photos are a nice application for that. And cover art is something the Zune's done a nice job with on its large screen."
Also, a bigger screen makes it easier for users to see music track and other navigation information, he said. "There are a lot of benefits to having a large screen player, beyond video capability."
The players incorporate "a slick menu selection system, allowing fast navigation while on the move," according to Sony.
Accessories will include a car cigarette lighter cable, a stereo mini jack for music playback through the car radio via an optional FM transmitter or cable and a stereo Bluetooth transmitter.
The NW-A800 series will be available throughout Europe in April and in Canada in May at about US$150 for 2 GB, $200 for 4 GB and $250 for 8 GB.