Motorola is trying for another bite at the Apple, so to speak. It has launched its Xoom Family Edition tablet — a product clearly designed with aspirations to take on the iPad.
Going on sale exclusively at Best Buy, Xoom Family is an Android 3.1-powered device with a 10.1-inch widescreen HD display and 16 GB of storage.
Among its preloaded applications are parental control software called "Kid Zone" by Zoodles, and MotoPack by Motorola — a search function for Motorola tablet apps on the Android Market.
It sports a 5mp rear camera and frontfacing webcam and runs on a 1 GHz dual-core processor. Its battery powers up to 10 hours of video playback and Web browsing, according to the company.
Xoom Family Edition retails for US$379.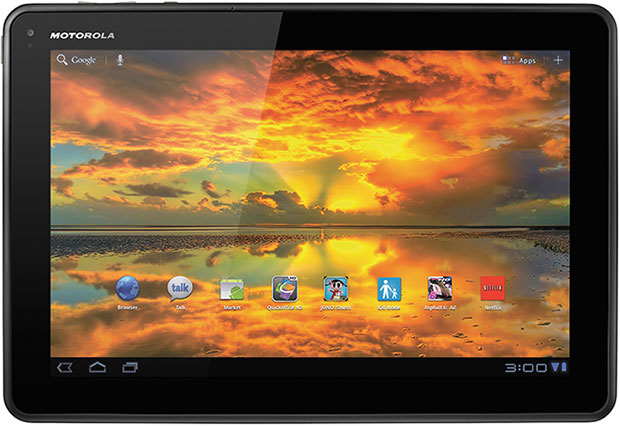 Motorola Xoom Family Edition
Motorola Mobility declined to comment to TechNewsWorld for this story.
Can It Beat the iPad?
If there were ever a tablet that built to take on the iPad, the Xoom Family comes close, Laura DiDio, principal of ITIC, told TechNewsWorld. "The Xoom Family has a lot to recommend it, and Motorola Mobility is a proven brand. The specs are wonderful — dual-core processor, Android 3.1, a 10.1-inch HD screen — and comparable with the iPad."
That said, it is difficult to imagine any tablet now coming close to the iPad, given the near- mythical status it has built for itself, observed DiDio, "even though I would rate the Xoom Family as the toughest competition the iPad has faced yet."
A Backup Tablet
Consumers have proven to have near bottomless pockets when it comes to gadgets, though, and as prices lower in the tablet market — thanks in no small part to the Amazon Kindle Fire — they may be willing to consider owning more than one model.
The Xoom Family would compete for alternative status at the high end, Didio suggested, while the Amazon Kindle Fire would compete at the lower end.
The Family Model
The concept of a tablet for the family market might appeal to some buyers, Azita Arvani of the Arvani Group told TechNewsWorld.
"It is certainly true that iPads have kept many kids entertained as parents attend to other business," she pointed out. "Just last week, I saw a 5-year-old girl on her mother's lap getting a haircut while mesmerized by a movie on the iPad. Without the tablet, the girl would not be able to sit still for that long. So, Motorola has observed that phenomenon and is trying to capitalize on it."
That, however, is largely marketing and positioning, she added. The major differentiation between this version and the previous Xoom, Arvani said, is the lower price point. "Otherwise, it is the same old Xoom."