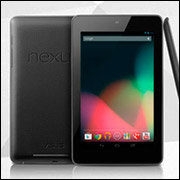 The 16 GB Nexus 7 tablet has sold out at Google Play and there is no indication when Google will have more of the devices in stock.
Shoppers who visit the Google Play store seeking to buy the tablet are invited to leave their email address so they can be notified when the product becomes available.
The 8 GB Nexus 7, however, is in stock.
It is easy to see why the more popular 16 GB device is sold out while the 8 GB version is still available. The Nexus 7 aspires to knock Apple's iPad down a few notches in terms of market share. That means it needs to support a lot of content and applications, which translates into a demand for space. For some, 8 GB just doesn't cut it.
The disappearance of the 16 GB Nexus 7 from Google Play has broader implications, though, for the low-priced tablet market segment specifically and for the way tablets are being used in general.
Following the Kindle Fire
Starting at US$199, the Nexus 7 is meant to pick up where the Amazon Kindle Fire tablet left off.
For roughly the same price as the Kindle Fire, the Nexus 7 not only is a new generation tablet but also offers a Retina-like display, a large number of apps, and the ability to run TV- and movie-streaming clients.
"There is definitely a huge, untapped buying group out there that want the best of what tablets can do but don't want to spend the extra money on an iPad," Laura DiDio, principal of ITIC, told TechNewsWorld.
"The tablet market has caught fire, and people who have grown up with Android phones are quite happy to segue to the Nexus 7 because they trust the Google brand," she said.
In short, there is definitely room in the tablet market for another powerful contender alongside the Kindle Fire and Apple's iPad.
Competition in the 7-inch Tablet Space
Indeed, many see the 7-inch tablet space as unclaimed territory, with Google, Amazon and Apple poised to gain traction.
"The Kindle Fire made 7-inch acceptable as a product, and this all came together with the Nexus 7-inch," Rob Enderle, principal analyst with the Enderle Group, told TechNewsWorld.
"Now we'll see if it can hold on against both the powerful Amazon Kindle 2 line of five new products and the rumored 7-inch iPad," he said.
Google's Nexus 7 is well positioned for this market share jockeying, added Enderle. "The $200 price point has always been one of the most powerful, and the Nexus 7, which is a showcase for Nvidia's Tegra platform, is arguably the best tablet Google has, so far, been associated with."
New User Trends
The sellout of the 16 GB Nexus 7 also points to an even larger trend — the ubiquity of tablets in consumers' day-to-day lives.
"Tablets have become an essential part of many people's lives," DiDio said. "Like your car keys, wallet and cellphone, some people just don't want to leave the house without their tablet too." For this group, a smaller tablet is clearly much more convenient.
With that trend as a backdrop, there are many explanations for the 16 GB Nexus 7 sellout. It's summertime, which means people are going on vacation — probably by car, given the increase in airfares and decrease in gas prices, said DiDio. "That means they will want tablets for themselves and/or the kids, and they probably won't want to spend a lot of money on them in case they get ruined."
Summertime is also the cusp of back to school shopping, and college students in particular are well suited for the Nexus 7, she noted. "The features are fairly advanced but not so much that they are out of the price range of a budget-minded student."
Google did not respond to our request to comment for this story.