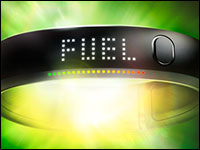 Nike has rolled out another product aimed at digital device-loving athletes. Called Nike+ FuelBand, it is a digitized wristband with a built-in three-axis accelerometer that tracks a user's movements. That's any movement — from running or dancing to swimming or fiddling at your desk.
Users can also set personal goals for a variety of activities using the water-resistant device.
The FuelBand has a battery life of four days and an internal USB. It captures and displays four different metrics: time, calories, steps and NikeFuel — Nike's own metric based on a proprietary technology that measures activity through the movement of the user's wrist. Its algorithms are based on oxygen kinetics.
How NikeFuel Works
Nike is playing up the NikeFuel metric, encouraging users to compete with other athletes based on their "number" and to set goals for themselves based on the metric.
As users move closer to their goals, the band's 20 LED lights switch from red to green.
Syncing to the Nike+ Website
FuelBand syncs to the Nike+ website. The data captured by the device can be transferred via the USB or wirelessly through Bluetooth to an iPhone app.
The NIKE+ FuelBand is available now at Nikestore.com for a suggested retail price of $149.
Nike did not respond to our request for further details.
A Mixed Market
The Nike+ FuelBand is straddling two very large trends for U.S. consumers — diet/exercise and sleek gadgets. January is a key month for both, with people making resolutions to live more healthy lifestyles and becoming bedazzled by all the technology featured at the Consumer Electronics Show in Las Vegas.
Still, devices in this category are not a slam dunk. Fitness gadgets, even high-tech ones, are too often viewed by jaded dieters as another passing fad.
Also, Nike+ FuelBand has to live down the disappointment surrounding the UP Jawbone, which launched at the end of last year and quickly became the target of many consumer complaints. The manufacturer eventually posted a note of apology and offered to refund the device to anyone who asked.
Then again, there will always be a cadre of hard core fans of these devices.
"I love the concept of the new Nike FuelBand," Len Saunders, a children's health, fitness and wellness specialist, told TechNewsWorld. "In this day and age, where we are all busy, we look to technology to make our lives easier. At work, computers can help make us more productive. Why can't exercise be the same way?"
The new band can make keeping track of calorie input versus output less complicated, he said. In that respect, it is similar to a pedometer.
"I know people who lost weight using their smartphones with various apps that help with food intake or calorie outtake, and had a large amount of success," Saunders noted. This new product takes it a step further."
The only possible drawback, in his view, is the price tag. Other than that, "it looks like a promising product."
The Waterproof Factor
One factor that the FuelBand has in its favor is that it is waterproof, Trish Blackwell, certified personal trainer and fitness director, told TechNewsWorld.
"As a former collegiate swimmer and current triathlete, I can tell you that there really has never been a successful product hit the market that allows the user to track movement in the water," she said.
It is ideally suited to triathletes, or gym goers who cross-train across a spectrum of mediums, added Blackwell.
"This could be an essential tool to help users properly track their energy output and fitness progress," she said, "so that they in turn can properly fuel nutritionally according to their goals."