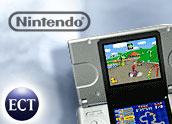 Mobile gaming playerNintendo has refreshed its handheld DS device by slimming it down, brightening its two screens, and dropping the price to US$129.
The Japanese giant has been selling the DS Lite in Japan since March, enjoying overwhelming demand there. Its U.S. release, slated for next month, will be accompanied by the latest entry in the Mario Brothers game franchise, which has grown up since the days of Nintendo's original Game Boy.
Nintendo is seeing perhaps its first real competition in the gaming space fromSony's Portable Playstation (PSP), and increased game play on mobile phones. Still, Nintendo is managing to hold its own by making improvements and innovations, JupiterResearch Vice President Michael Gartenberg told TechNewsWorld.
"It looks like a really nice evolution to what has already been a pretty successful product," he said of the DS Lite, which goes on sale in the U.S. June 11.
Lighter Double-Shot
Nintendo has been the dominant gaming company on the mobile platform with its Game Boy line and more recently the DS, which was first released in 2004 for $149.
The new DS Lite is less than two-thirds as large and is 20 percent lighter than the original Nintendo DS. It features the trademark two LCD screens that now have four lighting settings for different conditions and better battery life. Other features of the updated handheld, initially available in "Polar White," include a microphone in the center, a larger stylus, and more ergonomic start and select buttons, Nintendo said.
The company is also hoping to spur DS Lite sales, which were brisk in Japan earlier this year, with the "New Super Mario Bros.," an update to "Mushroom Kingdom" that is set to launch May 15.
"DS Lite and 'New Super Mario Bros.' represent a double-shot of gaming excellence," said Nintendo America Executive VP of Sales and Marketing Reggie Fils-Aime. "We've got something for both lovers of beautiful new gadgets and fans of old-school gaming."
Getting Better Gaming
Although it may have fallen back from its competitive position with the regular console, Nintendo is known for succeeding and improving on its designs, particularly in mobile devices, Gartenberg said.
"Nintendo has won a lot of praise in this platform and for driving the games forward," he said.
As it did when improving on the Game Boy, which was followed by the Game Boy Micro, Nintendo has managed to make the DS "more pocketable" and less expensive while retaining its unique features, including dual screens, touchscreen functionality and wireless capability, Gartenberg added.
Next Level Up
Although Nintendo has been praised for its leadership in handheld gaming and its latest designs, the company is under increasing competitive pressure — not only from other handheld gaming devices, but also from mobile phones, Gartenberg pointed out.
In fact, Nintendo's announcement on the U.S. launch of the DS Lite comes a day after gaming heavies Electronic Arts (EA) and id Software announced a new role playing game (RPG) title specifically for mobile phones.
"That's why these consoles have emerged as well," Gartenberg said of mobile gaming devices, which vendors are trying to keep ahead of the more-mainstream handhelds.
Maturing Market
While Nintendo's original Game Boy found its greatest audience among young gamers, the space is now opening up to more young adults, business people and older, casual gamers,Parks Associates Director of Broadband and Gaming Michael Cai told TechNewsWorld.
Reporting that there are mobile gaming device buyers in nearly half of the U.S. households equipped with Internet access, Cai said the market continues to open up to a wider audience.
Multi-player and interactive game play also appeal to more consumers, which furthers the expansion trend, Cai added.