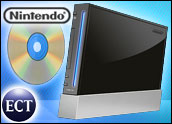 Nintendo is reportedly planning to best its price advantage over Microsoft's Xbox 360 and Sony's Playstation3 (PS3) with a time advantage as well, aiming to beat Sony to the market by more than a month with the Nintendo Wii.
Nintendo is sticking to game play, rather than pushing processor and graphics performance, with its next-generation console and is winning critical praise for its innovative motion sensory game controller and other technical features.
Wii Under Way
Earlier this year, Sony suffered technical woes related to all of the new technologies it is building into the PS3 — a new Cell processor, high-definition Blu-ray DVD, and more — and was forced to delay the new console's launch until November, cutting it close to the crucial holiday buying season.
Now there is word that Nintendo is ahead of schedule and already building Wii consoles that could hit the market as soon as September or October.
Nintendo has signaled its intention to make and sell six million Wii consoles, which will be priced at no more than US$250, in contrast to the roughly $300-$400 price for Xbox 360 and expected $400-$600 price of PS3.
Strategy Over Head Start
A head start, which has thus far belonged to Microsoft with its Xbox 360 released last fall, can make a difference, but is unlikely to significantly shift the market toward any one of the three rivals, JupiterResearch Vice President Michael Gartenberg told TechNewsWorld.
"Obviously, when you're in this tight of a race going into the holiday season, any advantage you get will be helpful," he said. "At the same time, a month or two is not going to change the landscape of the market."
Wii's shipping date is not as important as Nintendo's larger strategy that focuses on design and content, agreed Parks Associates Director of Broadband and Gaming Michael Cai.
If Nintendo manages to ship the Wii early, he told TechNewsWorld, it will only add to the company's price and positioning advantages.
On the other hand, if competitor Sony was to slip its timeline and miss the coming holiday shopping period, it would be a huge blow to the company. However, Cai said several major technical issues have apparently been ironed out, and Sony is likely to make its November schedule.
As for Microsoft, the software giant is likely to bundle games with its consoles at holiday time at a special price to fend off the competing consoles.
"I'm confident Microsoft will do something," he said.
Common Fight
How the different console vendors are able to differentiate themselves, and more importantly their game offerings, will be the key to the console contest going forward, Jupiter's Gartenberg said.
Each of the companies is in search of new console users, seeking to expand market share and general appeal.
"Everyone is fighting the battle of how do you appeal to different gamers in the household other than hard core gamers," Gartenberg said. "That's a big challenge."