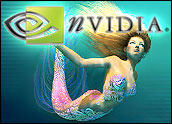 Graphics silicon giant Nvidia doubled up on graphics processors for its latest high-end graphics processing card, touting the new GeForce 7950 GX2 as the "world's fastest."
The new GeForce 7 series cards draw on two graphics processing units (GPUs), dramatically increasing single video card performance and ushering two-card, four-GPU "extreme" high-definition resolutions, smooth frame rates and stunning visuals, the company said.
Nvidia spokesperson Brian Burke told TechNewsWorld the new GeForce 7950 cards were priced between about US$599 and $649, and were immediately available to the public.
Performance Times Two
Nvidia touted the coupling of two GeForce 7950 GPUs on a single graphics card, described in some reports and discussions online as a technical truth, but perhaps a stretch since the unit consists of two cards mounted together.
Nvidia was nevertheless praised for its design, which packs more graphics punch into nearly the same space as a single video card, uses a single PCI Express slot, and delivers cutting edge graphics.
"The GeForce 7950 GX2 is a great card for the gamer that's looking for the absolute best performance in a single graphics card solution," said Nvidia General Manager of Desktop GPUs Ujesh Desai.
Desktop and Widescreen
Although the new 7950 may be using some of the same technology that powers the Nvidia graphics of Sony's next-generation gaming console PlayStation 3, the new high-end desktop graphics card is not the same technology as the PS3 graphics silicon, according to Burke.
"This is a desktop GPU part, it's not part of what we're working on with Sony on PS3," he said.
In addition to the twin GPUs running on one card, the 7950 GX2 also features 48 pixel pipes, 16 vertical shaders, more bandwidth and memory, and DVI support for widescreen flat panel displays and resolution as great as 2,560 x 1,600.
Nvidia also stressed the support for its Quad Nvidia SLI technology, which will allow Nvidia system builders to combine two 7950 GX2 cards for even more graphics horsepower the higher resolutions.
Integration Pros and Cons
At the Computex tradeshow in Taipei, Taiwan this week, Nvidia also showcased its nForce graphics processing technology support for Intel Core 2 Duo processors, which the two companies said would result in faster, feature-rich motherboards for enthusiasts.
The advantage of the technology is that the Core functionality is integrated into the Nvidia motherboards, which remain nicely packaged, small chipsets, Gartner Research Vice President Martin Reynolds told TechNewsWorld.
The only issue with the processor integration — which may be ideal for desktops, notebooks and even servers — is that an all-Nvidia chipset may be missing out on some of Intel's other technologies or capabilities, while Intel's chipset technology may be missing Nvidia features or functionality.