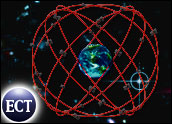 A group of New York City taxicab drivers kept their cars parked Wednesday to protest the forced installation in their vehicles of devices that use global positioning system (GPS) technology and allow credit card payments.
The 48-hour strike, urged by the New York Taxi Workers Alliance, began at 5 a.m. Reports varied about the number of cabbies who participated, but one source within city government said there appeared to be plenty of cabs available throughout the day.
Bhairavi Desai, the executive director of the Alliance, could not be reached for comment, but a taped message at the Alliance office urged all drivers to participate.
Backseat Panels
The group wanted cabbies to stay home in protest of a 2004 directive from the city Taxi and Limousine Commission (TLC) which said yellow cabs must be equipped by Jan. 31 with GPS tracking devices and passenger area video displays that include credit card readers.
The technology will not only provide passengers with information and entertainment but will also help them retrieve items they accidentally leave in cabs, the TLC said. Because the system will always be online, the TLC will be able to send text messages to drivers alerting them when someone reports lost items, warning them about traffic problems or emergencies and connecting them with prospective riders.
A Win-Win Situation?
Cabbies who installed the devices are benefiting because riders paying with credit cards tend to give bigger tips. The technology also frees drivers from having to fill out paper trip sheets, the commission said.
The devices are too costly for many drivers, many of whom lease their vehicles, the Alliance has argued. The equipment costs between $2,400 and $5,200.
The Alliance, which represents about 7,000 of the city's approximately 20,000 cab drivers, feared the use of GPS amounts to an invasion of cabbie privacy, although TLC Commissioner Matthew W. Daus insisted the GPS units would not be used to "track" drivers.
A Right to Know
More such devices are likely to make their way into use in commercial vehicles, said Strategy Analytics analyst Mark Fitzgerald, who specializes in automotive wireless technology.
"I think it's the wave of the future," Fitzgerald told TechNewsWorld. He recalled a similar situation in Boston when snowplow drivers balked at the installation of GPS devices in the trucks.
"They struck as well," said Fitzgerald. "It was one of those invasion of privacy arguments. But if you are being paid to do a job, it's a little bit of a question how you can be upset about this … I think this is just a union flexing some muscle. More than likely, they (the protesters) are probably doing something wrong that they're hiding. That's usually when people push back."
Big GPS Brother
GPS devices are now commonplace in a number of industries that rely on, and want to keep tabs on, fleets of vehicles, Fitzgerald said. The technology's use does raise privacy concerns when it involves rental cars, he said.
There was a case in Connecticut involving a fine for speeding being issued by a car rental company to one of its customers, he said. "It was eventually thrown out of court," he said. "The court said (to the rental company), 'You are not a police force.'"
GPS, combined with a display showing the route of the cab, can benefit cab riders who get a cabbie who either doesn't know his or seems to be purposely taking a long route, Fitzgerald said.
"They sometimes take the long way," he asserted. "I've been in arguments with cab drivers in Boston when they don't take the quickest route." The analyst said he expects other cities will follow New York's lead and push for GPS in taxis if they "see that it doing well and achieving goals in New York."