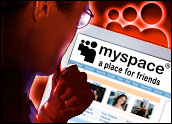 MySpace.com may have been discovered and popularized by younger people, but adults over 25 years old comprise a surprising portion of the user base, according to new figures released by comScore's Media Metrix.
According to the firm, visitors to MySpace.com and Friendster.com generally tend to be older, with people age 25 and older comprising 68 and 71 percent of their user bases, respectively.
Xanga.com has a younger user profile, by contrast, with 20 percent of its users in the 12-17 age range, about twice as high as that age segment's representation within the total Internet audience. Visitors to Facebook.com, a social networking site for college students, are younger as well, with more than one-third between the ages of 18 to 24 years old.
Niches Within a Niche
The findings point to a more nuanced landscape in the social networking space than perhaps previously thought.
"While the top social networking sites are typically viewed as directly competing with one another, our analysis demonstrates that each site occupies a slightly different niche," said Jack Flanagan, executive vice president of comScore.
"MySpace.com has the broadest appeal across age ranges, Facebook.com has created a niche among the college crowd, Friendster.com attracts a higher percentage of adults, and Xanga.com is most popular among younger teens."
Perhaps the biggest misconception, he concludes, is that social networking is the exclusive domain of teenagers. "This analysis confirms that the appeal of social networking sites is far broader."
Catering to Adults
Adults do indeed enjoy the community provided by such social networking infrastructures — they just have different needs and demands than their younger counterparts, according to Julie Wittes Schlack, vice president of innovation and design at Communispace, which creates private online customer and consumer communities for companies.
"Adults are both subjected to more general noise in their lives and tolerate it less well than younger people who have grown up with this constant stimulation," she told TechNewsWorld. "So they tend to be very protective of their time and to what they pay attention."
A good network site will filter the experience for its audiences — an audience of adults that is — so smaller sub groups can find one another more easily. "The challenge for older audiences is finding a common ground with other participants."
Credibility of the site and its participants is also key to this group, she continued. "Adults are looking for community — but one that is tailored to their interests and one in which they can have confidence in its credibility."