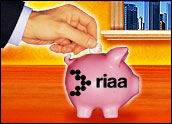 In clarifying what is legal for Canadian online music fans, the Canadian Copyright Board ruled that downloading music files from peer-to-peer networks is acceptable. However, the board declared that uploading music files is illegal and also approved a levy on digital music players based on their storage capacity.
The government fees — charged to makers of digital devices — are paid to the Canadian Private Copying Collective (CPCC) and then distributed to Canadian music writers, producers and performers.
While the Recording Industry Association of America has claimed success from its legal campaign against consumers who are illegally sharing music online, the Canadian ruling illustrates the increased challenges of legitimizing P2P file trading on the global scale.
Downloads with a Catch
The Canadian copyright ruling comes in response to questions by consumer and other groups about Canadian law. The Canadian Copyright Board ruled it is — and has been — legal to download music files from P2P services in Canada.
However, the board stipulated that the downloading and recording must be done for personal use rather than for sale, rental or gift and said uploading music is not legal.
In what some described as a quid pro quo whereby consumers get to download and copyright holders benefit from a levy, the board also imposed the fee on makers and importers of digital music players with nonremovable memory. The fees range from about US$1.50 to $20 depending on the memory capacity of the device.
World of Complexity
Gartner research director Mike McGuire told TechNewsWorld that while the major record labels gradually have become more flexible and liberal in inking licensing deals with an increasing number of legitimate online music services, capturing an international audience remains a challenge.
"The next level of incredible complexity is the licensing of these [services] for international marketing," McGuire said.
The analyst also said the deals with record labels — and the resulting freedom to copy and move music files — are more important than issues of technology when it comes to the success of legitimate services.
Different Country, Same Issue
The same turmoil in the United States — driven by popular free P2P services clashing with the established recording industry — is also apparent in Taiwan, where a two-pronged prosecution and pay-service approach also is being taken.
The Taiwanese market, which is significant because of its connections to the growing Chinese Internet market, is seeing the introduction of legitimate music services, the first of which is expected in February.
Much like in the United States, where prominent players such as iTunes, Napster, MusicMatch and a host of others are competing in the emerging market for online music, Taiwan is expected to offer several legitimate services that will try to usurp the turf of the dominant piracy-ridden services.
The two main services in Taiwan — Kuro and EzPeer — charge small monthly fees for unlimited access to illegal MP3 files. These free services are being sued in Taiwan and face court-ordered shutdowns similar to what happened to the original Napster.
Downloads for Discs
Despite contentions that free, unlicensed P2P music-sharing will remain a significant force in the market, Forrester principal analyst Josh Bernoff reported recently that legitimate Internet subscriptions and downloads will account for one-third of all music sales by 2008 as the digital format replaces disks.
"I do think you'll see the percentage of online subscriptions and downloads increase as more and more people, especially young people, get used to the idea of music as a service rather than something they have to buy and own," Bernoff told TechNewsWorld.
Bernoff, who added that the recording industry must continue its legal strategy "to keep scaring people," said the quality of files available for download also will become more of a differentiator between legitimate and unlicensed download services going forward.