Eight months after Verizon Wireless showed off the prototype for the Droid Bionic, it is finally coming to market.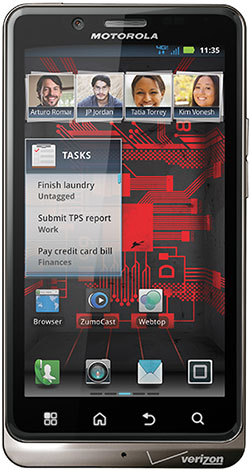 Motorola's Droid Bionic
The device is among the handful of phones that will run on the 4G LTE network that Verizon is rolling out this year — and the carrier's first to sport a dual-core processor.
Built for Speed
If that makes it sound fast, that's because it is, Verizon Wireless national spokersperson Brenda Ranei told TechNewsWorld.
"The device has been built specifically to take advantage of the speed of our LTE network," she said.
The network boasts download speeds of 5-12 Mbps and upload speeds of 2-5 Mbps in broadband coverage areas.
Set to become available this week at a price point of US$299.99 with a two-year contract, the Droid Bionic sports a thin, sleek design, an 8-megapixel camera and high-definition video. It has 16 GB of internal storage and a 16 GB microSD card and runs Android 2.3 (Gingerbread).
It also functions as a mobile hotspot, supporting up to five devices via WiFi on the 4G network. This functionality is available for $30 per month for 2 GB. Talk plans start at $39.99 and data packages at $30 per month.
Security for the Corporate World
Another positive attribute of the Bionic, Verizon's Ranei said, is the security built into the device.
Companies will dictate what devices their employees can use on internal networks for security reasons, she said.
"The Droid Bionic's security features, among other things, lets a company remove content on a device should an employee leave or if the device is lost or stolen," Ranei explained.
The Motorola-Verizon Ecosystem
The ecosystem Motorola, the handset manufacturer, is bringing to the Droid Bionic is another factor in its favor, according to Ranei. "These apps dramatically expand the use of the Bionic."
For example, Motorola's ZumoCast is an application that lets customers more efficiently transfer videos, music, pictures and documents to their handset via remote access, she noted.
An Engineering Masterpiece With Challenges
The Droid Bionic is nothing short of an engineering masterpiece, Azita Arvani of the Arvani Group told TechNewsWorld.
Even so, it comes with some challenges, she acknowledged. One is that all that engineering could backfire as Verizon and Motorola set out to market the device.
"There is so much in Droid Bionic that one is not quite sure who the target audience and the use case is," Arvani said. "Even with the accessories, who would need all those docks?"
It seems that much of the engineering was done with an eye on technology for technology's sake, she said, adding that "it would be better if the focus was on the benefits of the phone to the users' lives."
How High?
The $300 price point, which rivals the high-end of the iPhone family, also could be problematic, in Arvani's view — not to mention the monthly voice and data fees.
"It seems like pricing was based on how much technology was packed in there versus the value that the user could get out of it," she said. "In addition to the cost of the device, the LTE data charges would be an additional $70/month, which makes it out of reach of most consumers."