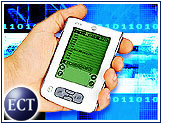 Adding value to the original Zire handheld while still keeping its US$99 price steady, Palm has introduced the Palm Zire 21, which has more software and a faster processor than the first version of the PDA.
With four times more memory than the original Zire, the Zire 21 handheld's 8 MB of RAM adds room for storing many years of appointments and thousands of contacts, with extra space for installing several of the additional applications that are available for the Palm OS — ranging from business software to exercise logs and shopping-list managers.
Running on a new 126-MHz Texas Instruments processor, the Zire 21 also offers faster response times than the first Zire, and with the latest Palm OS software — version 5.2.1 — the device offers Palm's latest personal information management (PIM) suite, including updated date-book and address-book applications.
Zire Handheld Success
"The Zire 21 handheld is Palm's sequel to the fastest-selling handheld in history," said David Christopher, vice president of product management at Palm Solutions Group.
"With the same great price and ease of use, [the Zire 21] offers more memory for data and applications, as well as faster performance," said Christopher. "We expect the Zire 21 handheld to be another hit with first-time users and gift-givers."
Named a best product of 2002 by BusinessWeek and PC Magazine, the original Palm Zire has been one of the fastest-selling handhelds in Palm's history, with more than 1 million units sold since its introduction last year, according to the company.
The Zire also won a Gold award in the 2003 Industrial Design Excellence Awards competition.
Enter the Tungstens
Meanwhile, Palm also has expanded the Tungsten family of business handhelds by introducing two new models — the Palm Tungsten T3 and the Palm Tungsten E. According to the company, both devices offer substantial software improvements compared with their predecessors, including significantly more PIM features and better productivity software.
The Tungsten T3 handheld is Palm's first device to support a high-resolution color screen in landscape mode as well as the typical portrait mode. Palm hopes the new landscape mode will help users view spreadsheets, e-mail, Web pages and multimedia clips more easily. At the bottom of the display, the company has added a new status bar — a toolbar with icons that give users one-tap access to screen rotation and other frequently used features.
According to Palm, the Tungsten T3 also offers faster Bluetooth setup, a more elaborate wireless communications suite and a faster processor. Priced at $399, it comes with 64 MB of RAM.
The Tungsten E, while not as high performance a machine as the T3, offers 32 MB of RAM, a high-resolution color display, updated applications, multimedia software and expandability through cards or add-on accessories. It is priced at $199.
Software Improvements
Palm has revamped its core applications on both new Tungsten handhelds, providing updated information-management capabilities, including a new color-coded calendar option and a new agenda view that shows future appointments. The new handhelds also offer improved scheduling features designed to let users beam multiple appointments to other PDAs with a single command.
Perhaps the biggest news that comes with the debut of the new Tungstens is that Palm has licensed from IBM a Java Virtual Machine (JVM) specifically for the two devices. This means the Java development community will be able to port applications easily to the Palm platform — at least to the handhelds that ship with IBM's JVM on them.
"Skillful integration of distinguished hardware and innovative software is key to a great customer experience, and we're convinced our new handhelds will please new and experienced Palm handheld customers," said Ken Wirt, senior vice president and general manager of Palm's Handheld Business Unit.
The Palm Tungsten T3 and Tungsten E handhelds are available now through electronics outlets, retail chains and online stores in most countries worldwide.