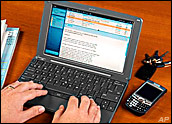 Many technology analysts and gadget lovers found themselves this week scratching their heads, rubbing their chins, squinting their eyes and exhibiting other signs of uncertainty about the need for, and future of Palm's latest device, the Foleo.
Billed by Palm as a "smartphone companion product," the Foleo doesn't come close to a full notebook computer in terms of power and functionality. However, because it has its own Linux operating system and WiFi radio, the unit is clearly more than just a monitor and larger keyboard accessory for cell phones.
"The Foleo is setting itself up against a well-established product: the notebook," NPD analyst Ross Rubin told TechNewsWorld. "How it does what it does, that's different. But there is significant overlap."
Palm's Mobile Vision
Palm created the Foleo to build on its "vision that the future of personal computing is mobile computing," the company said. The US$500 "mobile companion" is basically an extension of the smartphone, to which it communicates via Bluetooth, according to Palm.
The Foleo has a large screen and full-size keyboard that makes it easier and more enjoyable to view and edit e-mail and documents residing on smartphones. Palm notes that, because the Foleo and the phone are synchronized and can always communicate, edits made on the Foleo are automatically reflected smartphone and vice versa. "This powerful combination is for productivity-minded business people who want a more complete mobile solution for e-mail, attachments and access to the Web," explained Palm.
The Foleo turns on and off instantly, provides simple navigation, "a compact and elegant design" and battery life of up to five hours, the company said. It comes with e-mail, the Opera Web browser and "editors or viewers for common business documents such as Word, Excel, PowerPoint and PDF files." Internet access is accomplished either through the mated phone or the Foleo's built-in WiFi radio.
Truly Groundbreaking?
"Foleo is the most exciting product I have ever worked on," said Jeff Hawkins, founder of Palm, in announcing the device. However, his enthusiasm wasn't reflected by too many independent reviewers.
"It seems like it's an extra gadget in search of mobile companions," JupiterResearch analyst Neil Strother told TechNewsWorld. "I don't know who's going to buy it. Maybe a few Treo fanatics. Maybe there's a life in it in version two or three. I hate to sound like my colleagues, but to me it's just underwhelming. I don't see a lot of wow in it."
NPD's Rubin had a somewhat more positive opinion of the Foleo, suggesting it might fill a void between tiny smartphone screens and keyboards and the hassle of carrying a bigger laptop.
"It's relatively inexpensive compared to most ultra-portable laptops, and the battery life seems to be quite good, which is another issue with a lot of these smaller laptops," said Rubin. "You don't really have good battery life. The ergonomics seem pretty good, including the full-size keyboard."
Cell Phone as Digital Hub
Mobile phones will be the PCs of the future for many parts of the world, Microsoft founder Bill Gates has recently suggested, and Palm's Hawkins seems to also believe that. "Smartphones will be the most prevalent personal computers on the planet, ultimately able to do everything that desktop computers can do," he said. However, people sometimes need bigger screens and keyboards, he noted.
"The angle of tethering it to a smartphone seems to be definitely a novel approach," said Rubin. "I think that, if you are interested in a smaller device that can handle some basic computing tasks, it seems to be a good fit for that compared to most ultra-portable laptops. On the other hand, it's essentially the same price as the Apple iPhone. If that device is as good at text entry and browsing as Steve Jobs has promised or implied … then that could make the Foleo look like less of a good deal."
People have been trying to reduce the number of gadgets — and their required chargers, cables and accessories — they must carry on trips, said Strother. The Foleo doesn't fit with that goal.
"Simple wins," he added. "And this seems to just complicate things. It's stuck between the laptop and smartphone market. I can't be too high on it."