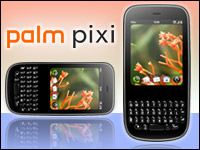 Palm is expanding its line of WebOS smartphones — and ratcheting up competition with Apple — with the introduction of a new mobile device called the "Pixi."
The phone, meant to supplement the more serious Pre smartphone, will be available during the holiday seaon through its exclusive carrier, Sprint.
A lighter weight and thinner phone with a visible full keyboard, the Pixi is a natural mobile conduit for social networking sites and activities, according to Palm.
Palm Synergy lets users arrange information from Google, Facebook, Yahoo, LinkedIn and Exchange ActiveSync in a single view. There are also new integration capabilities for Facebook's contacts, phone, calendar and photo apps.
Pixi users can download applications from the Palm Beta App Catalog and use Palm media sync to customize the device with music, photos and videos from iTunes or the Amazon MP3 store.
Palm did not respond to TechNewsWorld's call requesting comment by this article's deadline.
Pricing Confusion
The Pixi's price hasn't been announced yet, but it's expected to come in around US$99. Here's why: Palm also announced that it is cutting the price of the Pre to $149, after rebates, with a two-year Sprint contract. That's essentially a $50 price cut.
Prior to the Pixi's unveiling, Sprint advertised a special offer for the Pre: For a just few hours, new customers were able to get a $100 service credit. However, Sprint yanked the promotion before the ink was dry.
It is unclear how the credit was to be applied to the Pre's final price for a consumer — which after $350 in instant and mail-in rebates settled at approximately $200. It was widely assumed that the special offer was for a $99 Pre. Sprint reportedly said it would honor the deal for customers who signed new contracts during the promotion's brief window of opportunity.
Segmenting the Market
It is hard to fathom the behind-the-scenes maneuvering that must have gone on at Sprint, said Howdy Pierce, a managing partner with Cardinal Peak, a developer for both the Palm and iphone platforms.
Whether it was a colossal screwup or a misunderstanding with their Palm partner, one thing is clear, Pierce told TechNewsWorld: "They are going for marketing segmentation with this Pixi. This is not a phone that will appeal to serious business users like the Pre does."
The Pixi doesn't come equipped with WiFi, he noted, which is essential to any business user.
It's likely that other factors contributed to the pricing decisions, Derek Kerton, principal of the Kerton Group, told TechNewsWorld. One of them is competition with Apple's iPhone.
The Pre can go head-to-head with the iPhone on functionality, both Kerton and Pierce maintained.
However, both Sprint and Palm have perception problems with general consumers, noted Kerton.
"The Palm and Sprint brands are worn down — they will not be able to compete unless it is on price," he said.
Indeed, the Pre has been suffering from reports of poor quality. The device is poorly constructed and the screen easily marred, according to some reviewers.
Then there's the matter of apps. Palm is light years behind Apple in delivering third-party applications for WebOS.
Still, Palm may have an edge over Apple from the developer's perspective.
"The development environment for the Pre is phenomenal," Pierce enthused. "As Palm gets the SDK stabilized and lets more guys into it, I believe there will be more apps written for it."
Until then, Palm will have to rely on a competitive pricing strategy to lure new users.
For the Pre and the Pixi to really take off, even further price cuts might be warranted, Kerton recommended, accompanied by a slight rise in Sprint's two-year contract. It is one of the lowest in the industry, something that consumers do not often recognize.
"Consumers do react to the upfront cost of a device, though," noted Kerton, "even if they are saving money in the long term with a service contract."