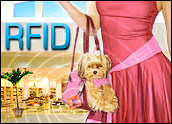 News that there may be a link between implanted RFID (radio frequency identification) chips and cancer in mice and rats sentVeriChip shares plunging by as much as 14 percent on Tuesday. The company's troubles began over the weekend when results of three studies in the United States and Europe detailing the increased risk — which was found to range between 1 percent and 10 percent in rodents that received implanted chips — were published by the Associated Press.
VeriChip disputes the findings, noting that the VeriMed Patient Identification System has been cleared by the Food and Drug Administration and that neither the article nor the research cited suggest a link between cancer in humans and microchip implants. "As the article states, research protocol guidelines clearly indicate that making such a link from mice to humans is a very big leap," the company maintains.
Furthermore, VeriChip dug up studies from its manufacturer that concluded microchip implants do not cause malignant tumors.
"The companies take this information seriously and will thoroughly review the reports referenced in the article," it said.
These chips are often used in pets as a means for recovering them when they get lost.
Market Overreaction?
The reaction in the financial markets was understandable, as one of the company's goals was to develop a bigger line that could have a potential market of more than 40 million Americans, said Fred Ruffy, analyst with the investor education firm Optionetics.
"Now, even if the product is no way linked to cancer in humans, there will be a sense of uncertainty that will hurt future sales," he told TechNewsWorld. "In addition, the sales so far have already been sluggish. Only 2,000 humans are already using the implantable chips. So, there are real concerns that the company's implantable chip might never really catch on."
However, while the market may have reason to recoil from the technology, businesses and consumers are more than likely to wait to see what other studies uncover.
"Remember the questions surrounding the link between cancer and cellular phone use? It took a number of studies to determine that there was no link," Sterling Market Intelligence principal Greg Sterling told TechNewsWorld. "But before that, very few people really changed their behavior with the phones."
Cigarette smoking is another case in point, he said.
Supply Chain Transformation
The constituency least likely to take immediate action based on these reports is comprised of businesses that are remaking their supply chains based on data received from — and generated by — RFID technology.
Of course, these processes do not call for a chip to be implanted in a person. Companies will continue to monitor developments to make sure there isn't an impact on human health, Sterling predicted, at least for liability reasons.
"I think it is assumed that it is unlikely that these chips cause cancer," he said, "but that is something that needs to be settled."