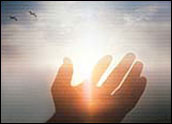 Sweden has recognized a new religion. This might not be headline news for the open-minded Swedes, save for the belief system's atypical focus: Kopimism is devoted to technology in general and free online file-sharing in particular.
The church was registered by the Swedish governmental agency Kammarkollegiet, shortly before the Christmas holiday, according to a blog post published by the new religious establishment.
With Sweden's official recognition under its belt, the church now hopes to spread the word, spiritual leader Isak Gerson, told TechNewsWorld. "We want to gather people who believe in same values and same faith and possibly evolve our religious practices and theology."
The Dogma of Technology
Information is holy in the church of Kopimism, and copying is a sacrament.
"Information holds a value, in itself and in what it contains, and the value multiplies through copying," the church's blog post reads. "Therefore, copying is central for the organization and its members."
Certainly there is a tongue-in-cheek aspect to all of this, which the church itself acknowledges. The recognition by Sweden, it says in its post, "is a large step for all of kopimi. Hopefully, this is one step towards the day when we can live out our faith without fear of persecution."
Membership in the church, which traces its roots all the way back to 2010, is not formal — all members have to do is feel a calling to worship information and copying. During religious services called "kopyactings," kopimists share information with each other through copying and remixing.
Gerson said he's received a number of calls from people around the world who seem serious in their inquiries for further information about Kopimism.
"It is difficult to profile these people on what unites them except that they appreciate technology," he explained. "A lot have asked how they should proceed in forming a church in their own country."
The Cult of Mac and Such
It would be easy enough to snort in derision, were it not for the mania that technology invokes in so many people.
Consider, for example, the protective attitude Mac fans have about Apple technology or the devotion of open source users to that computing model. Yes, Kopimism may be a joke or a nice try at gaining cover for an illegal activity, or both — but the concept of worshiping technology certainly strikes a nerve.
"I think for a lot of people, technology fills a gap or a role that religion once filled for people," David Johnson, principal of Strategic Vision, told TechNewsWorld.
It is understandable why technology holds a fond place in many people's hearts now: It is how we get our news and stay on top of the latest trends and keep in touch with friends and family.
"We are spending less time in face-to-face interactions with people and more time glued to a screen," Johnson said.
At one time, church was the focal point of many people's lives — especially people who lived in rural communities, he continued. "Now life revolves around the computer. It has taken over all facets of our lives."
There is a reason that Pope Benedict XVI — while calling such platforms as Facebook and Twitter "gifts" — also warned against their dangers, noted Johnson, particularly of isolation.
There is also a reason Sweden was the country to recognize Kopimism officially, he added. "It will recognize anything — when the remake of the 'Star Wars' movies came out, I remember that it recognized Jedi as a religion too."