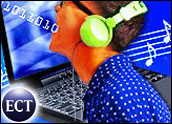 The good news, according to a new recording industry report, is that record labels around the world registered US$2 billion in digital sales last year — either through music online or mobile phones — nearly doubling the market in the previous year.
The bad news is that these sales have not totally compensated the industry for its lost audio CD revenues, which started to decline around five years ago.
The report was released in London by the IFPI (International Federation of the Phonographic Industry), an umbrella organization for national groups and affiliated industry associations.
Digital sales now account for around 10 percent of the music market, the report found, and the number of songs available online doubled to 4 million.
Piracy Still a Concern
Digital piracy still threatens the industry, even after the series of high profile lawsuits filed against individuals caught illegally downloading music.
It is one reason why the industry has not reached the so-called holy grail — that is, digital music offsetting the decline in audio CD sales — IFPI spokesperson Julie Harari told TechNewsWorld.
"Our position is that piracy is still a problem," she stated.
One conduit for this activity the association wants to plug is the lax Internet service provider policies, Harari added.
"We don't think [filing lawsuits] should be our job," she noted. "ISPs have clauses in the contracts customers sign with them not to break the law — whether that means downloading pornography or downloading copyrighted material without permission."
Tightening Enforcement
Harari said the association hopes this year ISPs will tighten enforcement.
Other statements by association officials suggest a possibly stronger course of action.
"As an industry, we are enforcing our rights decisively in the fight against piracy and this will continue," IFPI Chairman and CEO John Kennedy said.
"However, we should not be doing this job alone," he added. "With cooperation from ISPs, we could make huge strides in tackling Internet piracy globally. It is very unfortunate that it seems to need pressure from governments or even action in the courts to achieve this, but as an industry we are determined to see this campaign through to the end."
Some New Patterns
The report also noted that the music distribution channels are rapidly changing, and consumers are experimenting with various models.
For instance, a la carte download services, most notably iTunes, are the dominant digital format. Other emerging channels include subscription services, mobile master tones and advertising-supported licensing deals on such sites as YouTube and MySpace.
Mobile music accounted for about half of global digital revenues in 2006, according to the report; however, on a country by country basis consumers' preference varied, sometimes sharply.
For instance, approximately 90 percent of digital music sales in Japan were mobile purchases.