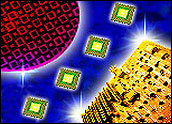 Sales of semiconductors will grow by nearly 10 percent this year as demand for smartphones and other consumer gadgets drive chip consumption, according to a new industry forecast.
In a report released Wednesday, the Semiconductor Industry Association (SIA) said worldwide sales of chips would rise 9.8 percent this year to US$249.6 billion. That represents a significant increase from the group's previous forecast, released in November of 2005, which called for 7.9 percent growth. The difference represents nearly $5 billion worth of sales.
The group said it revisited its forecast based on "stronger than expected growth in key end markets for semiconductors, most notably cell phones."
By Popular Demand
"Consumer demand for a wide variety of electronic products continues to fuel growth of the semiconductor industry," said SIA President George Scalise.
In addition to phones, which are using more chips than ever before as devices gain expanded functionality, other drivers of growth include personal computers, digital cameras, digital television and MP3 players, Scalise said. "Each of these end-markets will grow in double digits this year, and we expect continued growth through the current forecast period."
SIA said it is also more optimistic about longer-range growth, with the current upward trend stretching out for at least three more years, with growth of 11 percent next year, 12 percent in 2008. Growth would then slow considerably, the group predicts, falling to 4 percent in 2009, when sales would reach a projected $323 billion.
Over the course of its history, the semiconductor industry has been known for being highly cyclical, with its rise and fall often predicting economic slowdowns and periods of expansion. More recently, the fact that semiconductors appear in an increasingly vast variety of devices — and as even emerging economies become voracious consumers of that technology — has helped flatten those historic peaks and valleys.
Big and Getting Bigger
Scalise called the average annual growth of more than 9 percent that the industry expects to see through 2009 "very remarkable" given the size of the industry and attributed the positive forecast to the fact that businesses have maximized their efficiency.
"With both inventory and capacity in balance, conditions are favorable for continued industry growth," he said.
Though SIA forecasts growth across all types of chips, including those used in industrial and medical settings, the demand is being attributed mainly to the rise of wireless devices.
"We now believe approximately one billion cell phones will be sold worldwide in 2006," Scalise said, adding that each phone now has an average of $41 worth of semiconductors installed, second only to the amount contained in a PC.
Among various types of chips, SIA said analysis products will see growth of more than 17 percent this year. Those chips are found in a range of products, from automobiles to industrial equipment.
So-called discrete chips, which include radio frequency and power transistors, will grow 4.9 percent to $16 billion, while optoelectronics, such as those found in digital cameras and camera phones, will grow 11 percent to $16.5 billion. Microprocessors, the engines of computers and other devices, will grow by 4.3 percent this year to $36.4 billion in worldwide sales.
Another growth pocket will be in digital signal processors, which are found in most wireless devices and which will see growth of 18.5 percent in 2006 and maintain a nearly 17 percent growth rate through 2009.
Sales of flash memory chips — found in small MP3 players and a host of other devices — are projected to grow by 20 percent to $22.3 billion in 2006 and sustain a 13 percent growth rate through 2009.
Good Times Roll
So far, an expected drop-off in chip sales has yet to materialize, with everything from continued strength in the PC market to mobile phone sales cited as reasons for the sustained growth.
One key factor has been the success of device makers, especially those who produce cell phones and other hand-held devices, in reaching into emerging markets with regionally appropriate solutions, such as low-cost units in vast markets like South America and Africa.
Conditions in the chip industry have shown signs of improvement recently, prompting Gartner to raise its forecast for 2006 revenue growth to more than 10 percent, according to Gartner analyst Richard Gordon. "The industry is showing signs of more strength than expected," he said.
The PC industry could provide another boost if another replacement cycle kicks in as many expect will happen not long after Microsoft releases Windows Vista. Some analyst believe many businesses are delaying some PC purchases until that major operating system update is available, which is now expected to be sometime in 2007.
Scalise, however, said the chip industry is better insulated than ever before from the typical PC replacement cycle because of the diversity of customers for semiconductor makers.