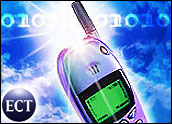 While the number of worldwide handsets shipped is expected to grow in 2006, revenue from handsets will decrease for the first time in years, research firm iSuppli is predicting.
ISuppli blamed lower handset costs, based on cheaper processors and more efficient designs, for the anticipated decline, indicating that the number of new cell phone devices shipped will not be enough to make up for the lower prices paid to handset manufacturers.
According to the firm, 810 million handset units shipped in 2005 for about US$115 billion in sales. Although the number of units shipped will continue to rise and the price pressures will begin to lessen in the next couple of years, handset revenue may not return to the 2005 level until 2009, iSuppli's report said.
Dollars Up With Devices
Ovum Vice President of Wireless Telecoms Roger Entner disagreed with the report's conclusion. Handset prices will continue to drop as manufacturers try to appeal to developing markets, he conceded, but overall handset revenues will continue to grow along with the number of shipments, he told TechNewsWorld.
"I think shipments should go up again, and revenue should go up as well. The decline [in average selling price] should not be larger than the increase in the number of units."
Entner explained that handset makers will be lowering prices to reach new customers in developing regions. However, the percentage of replacement sales is also rising, and those handsets will retain higher price points, he said.
Growth and Balance
According to Ira Brodsky, president of DataComm Research, it is still unclear how the two trends of an increasing number of advanced handsets and more low-price, entry-level devices will counter-balance each other.
The rollout of 3G wireless services, which include more multimedia capabilities, will require more advanced and more expensive handsets, he said, "but the development of lower-cost handsets is prevalent in large markets such as China, India and Malaysia."
Brodsky said wireless standards groups and handset manufacturers are building low-end, simple handsets for these and other emerging markets, and he expects to see robust sales for these types of devices. However, he said, there is a clear market for the higher-end devices with such features as cameras, music players and messaging capability as well.
"Where that leaves us is uncertain," he said. "I don't know how it will balance out."
Margins Over Markets
Yankee Group senior analyst John Jackson told TechNewsWorld that many manufacturers are looking to keep prices down to achieve higher sales volume.
He agrees with iSuppli's conclusion that overall handset revenue will decline next year and said efforts to offer low-end handsets in emerging markets — where he expects the biggest growth — represent a challenge for handset companies looking to maintaintheir margins.
"What you'll see is margins will trump markets," he said.