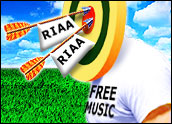 Verizon's U.S. District Court appeal over the subpoena powers granted to the Recording Industry Association of America, to be considered Tuesday, calls into question the music industry group's tactics and highlights privacy concerns.
The RIAA has pushed forward with its strategy of pursuing individual Internet subscribers who allegedly trade copyrighted music over peer-to-peer (P2P) networks such as Kazaa and Grokster, filing more than 261 lawsuits against computer users last week.
Verizon, one of two Internet service providers (ISPs) to resist the RIAA subpoenas legally, failed to convince District Court Judge John Bates to rule the subpoenas unconstitutional. Electronic Frontier Foundation staff attorney Wendy Seltzer told TechNewsWorld that Verizon faces an uphill battle, given that the court already denied the company's motion to stop the subpoenas.
"But the recent spate of lawsuits and the increased volume of the lawsuits helps to illuminate the set of problems with this sweeping subpoena campaign," Seltzer said.
Poor Picking and Choosing
The EFF has filed a supporting brief on behalf of about 45 consumer privacy, civil liberty and ISP associations, according to Seltzer, who said the court could rule instantly or wait weeks on Verizon's appeal.
Seltzer said that, through its more than 1,600 subpoenas and 261 lawsuits, many of which involve children, parents and the elderly, the RIAA has shown it cannot effectively pick good cases.
She said the RIAA's claim that last week's lawsuits were only a "first wave" indicates that more legal action will follow, and added that individual privacy is compromised by the RIAA subpoenas. "If the recording industry is picking and choosing, even someone not sued has had important privacy interests violated," Seltzer said.
Tactics Upheld, Defended
Indeed, the RIAA has indicated its intention to file more lawsuits, saying in a statement that there ultimately could be "thousands of civil lawsuits against major offenders who have been illegally distributing substantial amounts of copyrighted music on peer-to-peer networks."
The group stressed its actions have come after a multiyear effort to educate the public about the illegality of unauthorized downloading. It also noted that major music companies have made catalogs of music available to several high-quality, low-cost and legitimate online music services.
An RIAA spokesperson told TechNewsWorld that the group expects the court to uphold its earlier decision against Verizon, which has been used by the RIAA in resisting other subpoenas.
Tonal Changes
Seltzer, who referred to other resistance to the RIAA subpoenas, including a suit by Pacific Bell Internet parent SBC and an individual woman in New York, said the RIAA's recent lawsuits might factor in to the courtroom decision on Tuesday.
"It doesn't change what's in the briefs, but it may change the tone of oral arguments and the type of questions the judges raise," she said.
"It may raise their concern that the recording industry is not behaving in a careful and limited fashion, but is really using this as a sweeping scare campaign against the American public."
SBC Takes Case to Court
In a separate appeal, SBC has asked a federal court to halt new Federal Communications Commission unbundling rules that the company claims would do "irreparable harm" to its business.
The new rules, from the FCC's Triennial Review order, give competitors blanket access to SBC's network at below-cost rates, the company contends, pointing to two prior defeats of similar rules by the U.S. Supreme Court and a federal appeals court.
The motion for a stay in the appeals case came from SBC, which was joined by Verizon, BellSouth, Qwest and the U.S. Telecom Association.
Meanwhile, the U.S. Senate is also scheduled to vote Tuesday on whether to uphold loosened-ownership restrictions from the FCC, which last spring voted to allow more media ownership by major companies.